Yes, we have incredible Mexican food here, but there's a world of chefs that call Tucson home.
Each October, a three-day event pops up in the heart of Tucson's downtown: a celebration of the cultures that call Tucson home—Tucson Meet Yourself. To be honest, however, most locals just give in and call the event "Tucson Eat Yourself," a nod to the fact that it's a magnificent international food court with dozens of options, providing the opportunity to enjoy a Laotian beef stick from one stand, Polish potato pancakes from another.
The other 362 days of the year, there are still many vibrant international gastronomical delights available around town. Here are a few places where you can get a stamp in your culinary passport. We didn't have room for some of our favorites (Za'atar! Kimchi Time! Com Tam Thuan Kieu! We could go on forever!), but here's, as they say, a taste.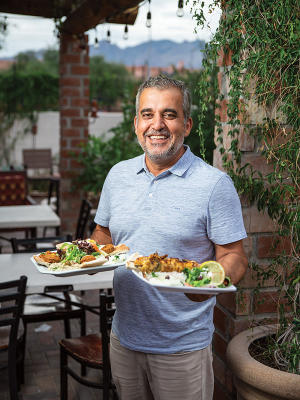 Za'atar Mediterranean
Credit: Justin Haugen
BOSNIAN
There aren't many Bosnian restaurants in the entirety of the U.S., and to be honest, even if you know exactly where this one is, it's still literally a bit of a "hidden gem." Tucked behind a plant nursery, Chef Alisah's Restaurant is a celebration of the food of the country Alisah himself fled in 1998 as part of a refugee program. The menu will be somewhat familiar to those who have had Greek or Turkish food before, but cevapi—a beef sausage served with chopped onions—is the main feature here. It's a place, like many on this list, that has a homey feel, with Chef Alisah likely stopping by your table to make sure you're enjoying your meal.
Chef Alisah's Restaurant, 5931 N. Oracle Rd.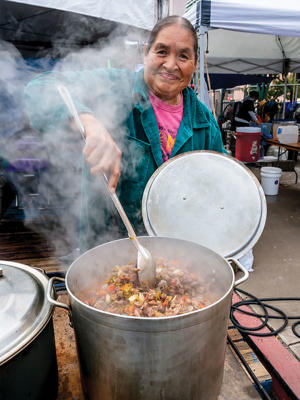 Tucson Meet Yourself
Credit: Steven Meckler
ETHOPIAN & ERITREAN
For a metropolitan area of more than a million people, it's a little bit of an embarrassment of riches to have four restaurants serving food from one corner of Africa—the two Zemam's and Café Desta focus on Ethiopian food, Queen Sheba serves the similar but differently flavored cuisine of Eritrea. Zemam's has been featured on Diners, Drive-Ins, and Dives (Guy Fieri took a huge stack of to-go boxes of their food with him back to Las Vegas); Café Desta is in the glowingly hip Five Points area south of downtown; and Queen Sheba was founded by the Gezehan family, who left their homeland as refugees. Each is unique in its own way, but also outstandingly delicious.
Zemam's, 2731 E. Broadway Blvd.
Zemam's Too, 119 E. Speedway Blvd.
Café Desta, 758 S. Stone Ave.
Queen Sheba, 5553 E. Grant Rd.
ACROSS CHINA
The Chinese influence and presence in Tucson goes back further than most might imagine—Chinese workers came to Southern Arizona to work in the mines in the latter half of the 19th century, helped construct the railroad through downtown and throughout the West, and later, became the area's grocers. Now, there's a significant number of Chinese students attending the University of Arizona as well. That might help explain the recent flood of Chinese restaurants opening in Tucson.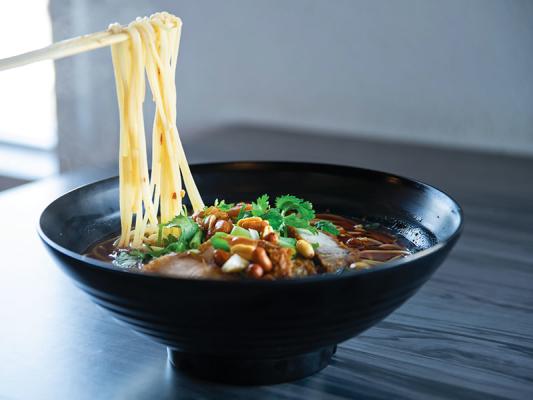 Noodleholics noodle bowl
Credit: Justin Haugen
Noodleholics offers—no surprise—noodles made in-house from the Guilin and Guangzhou traditions. Fatman Kitchen has long, wide Instagram-ready noodles and other Sichuan and Shaanxi dishes. China Pasta House has memorable dumplings, and the massive menu at Chef Wang (165 dishes) covers several regions, including Dongbei and Xinjiang. The point is: there's plenty to explore.
Noodleholics, 3502 E. Grant Rd.
Fatman Kitchen, 2610 N. 1st Ave.
China Pasta House, 430 N. Park Ave.
Jun Dynasty, 2933 E. Grant Ave.
Yu Zi Wei, 2601 E. Speedway Blvd.
Chef Wang, 356 E. Grant Rd. 
With so many things to do and see in Tucson, Arizona, and the surrounding areas, simply choosing…
More than just saguaros and Sonoran hot dogs, Tucson, AZ is a cultural and natural hub where…
Whether you're on family vacation, finally getting that second honeymoon, or traveling for work…