Tucson Convention Center
In the Heart of Downtown, Where Big Things Are Happening
IT'S A NEW DAWN for downtown Tucson. With recent additions, downtown is witnessing a re-awakening with the help of new commerce, creative development, and expanded public transportation.
Downtown is the best place to experience authentic Tucson. Conference visitors to downtown can quickly sample Tucson's regional flavor and culture all within walkable distances.
What excites visitors are the sights, sounds, and smells emanating from the more than 80 restaurants and pubs that attest to Tucson's City of Gastronomy designation—including the legendary El Charro Café. Downtown is also home to festivals and events, entertainment venues, art galleries, retail establishments, and unique boutiques. With your group, plan a dine-around or a private reception at a gallery or museum.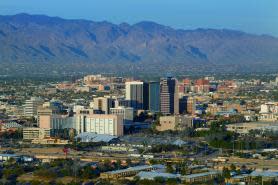 Groups love that they can forgo the rental car here. Downtown is walkable, and the Sun Link Streetcar lets attendees explore the vibrant commercial and historic residential districts just a little farther out.
Meeting interest in downtown Tucson has been growing steadily with new development and planned new hotels. Thanks to upgrades at the Tucson Convention Center (TCC), more than 200,000 square feet of flexible meeting space can hold sports competitions, concerts, meetings, and other large groups. The arrival of the 136-room AC Hotel Tucson Downtown—downtown's first new hotel in nearly half a century—comes complete with a small meetings venue. And there's more to come with the new City Park complex on the horizon in early 2018 with meeting space, retail, and entertainment options.
Downtown Tucson's resurgence can be seen all along the bustling streets, and it's only just begun.
For personal assistance with bringing your group to TCC or downtown Tucson, connect with our staff at VisitTucson.org/meetings.