Arts
BY SARAH BURTON
Just northwest of Tucson, with the dramatic Pusch Ridge as backdrop, Oro Valley reads like a treasure map of exploration for fans of the arts. This scenic town, which hosts one of the largest regional art events in the Southwest—the Oro Valley Spring Festival of the Arts—and which requires commercial developers to provide funding for public art, takes the arts seriously.
Music lovers can tap their toes at any of the free, al fresco concert series at Oro Valley Marketplace throughout the year, or grab tickets for performances, concerts, or melodramatic musical revues at Gaslight Music Hall. Fans of sculptures, mosaics, and other large-format installations will want to visit Oro Valley's website for the free guided tours of the town's public artwork, occurring twice monthly, September–June. With more than 150 pieces of public art here, expect to see a full range of mediums and subjects, from whimsical bronze sculptures of children playing to interpretive reflections of the surrounding terrain.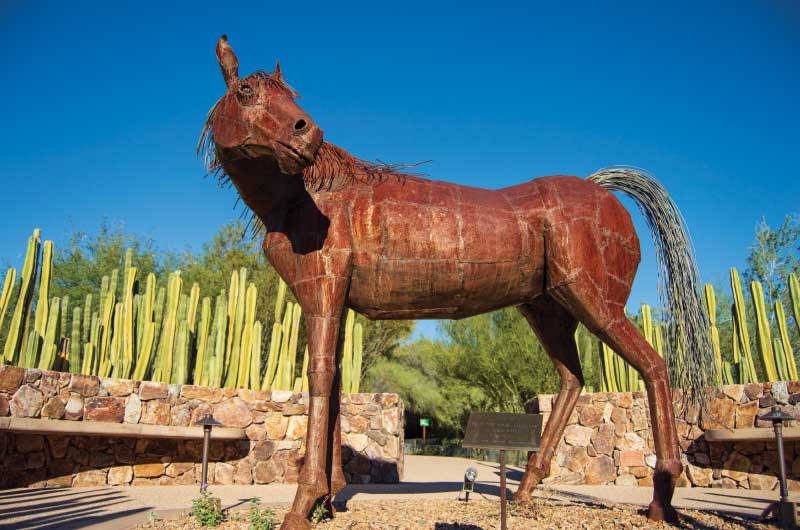 Tohono Chul
A visit to Tohono Chul is a must while in the area. Explore the 49-acre grounds dedicated to preserving and celebrating the natural wonders of the Sonoran Desert. Although the park is surrounded by a bustling urban center, once you're wandering through the trails, you're instantly transported to a garden of serenity. The property includes a charming old adobe home—now gallery—chock-full of regional artists' work. If you're staying at El Conquistador Tucson, A Hilton Resort, don't miss The Artist's Nest Studio & Gallery, a rotating selection of local works that peers into the creative soul of the American Southwest.
For artworks, you can take with you, find both Mexican and Native American art and handmade crafts, such as baskets, jewelry, carvings, and pottery, at the National Parks Store. And when you buy that piece of art to remember your visit, feel good knowing that proceeds support the national parks of the West—think of it as your investment in both the natural and cultural arts of the region.