ALL SOULS PROCESSION
Tucson's tradition of remembrance
Returns The First Weekend In November 2023
Tucson's Dia de Los Muertos-inspired event, which has been a beloved community-powered fixture of our fall calendar since 1990, is looking forward to coming back after the pandemic altered the course of humanity for over a year now. Event organizer, Many Mouths One Stomach is planning to produce and host the 34th Annual All Souls Procession Weekend with a weekend of events, openings, and opportunities to deepen your connection to the community and to your lost loved ones. Get involved with All Souls Procession Online Workshops & Events.
Video: Southern Arizona Video: 2021 All Souls Procession, Tucson, Arizona
Visitor Resources
Discover authentic Tucson and the freedom to be yourself. Enjoy "Día de Los Muertos – A Celebration of Life," by Tim Vanderpool, a story about a Tucson tradition with south-of-the-border roots and the cross-section of revelers it attracts during All Souls Procession every year. People show up to experience the procession in countless ways, in street clothes or fully in costume. Faces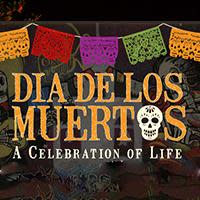 painted or just there to witness. A pipe-and-drum band, sporting a likely unique combination of kilts and Calavera face-paint, performing "Amazing Grace." A man walking down the street in a suit, a shrine contained within a backpack following him.
A group might be walking for a deceased co-worker or for an endangered animal. If you're feeling loss, this is an opportunity to join those feeling it as well. That isn't to say there isn't a celebration involved as well and that's seen best in the finale of the Procession, held on the west side of Tucson's downtown area, next to the Mercado San Agustin and basically the spiritual home of our city. Performance art group Flam Chen lit up the night sky with flames and acrobatics, with over 100 dancers, drummers, and musicians filling the stage and the air above it. Then, as the contents of the urn are set ablaze, the messages and thoughts it once contained rise up as well, with a crane lifting the urn 30 feet up for all to see.
The procession comes to an end, with hugs, tears, and prayers. In a few months, the preparations will begin again to create another year of experiences that just can't happen anywhere else but on the streets of Tucson in early November.