Research & Data
Just the facts - location, geography, climate, airport, key attractions, and tourism's value to the region.
The Hub of Southern Arizona 
Welcome to Tucson: the largest city in Southern Arizona and jumping-off point for trips throughout this region and northern Mexico, the second-largest city in the state of Arizona, and the seat of Pima County--located in the heart of the biologically diverse Sonoran Desert region of the Southwestern United States.     
FAQs

General facts about geography, location, population, and information with an overview of the economic value of tourism in Tucson.
Tucson International Airport (TUS)

Tucson International Airport (TUS) provides numbers for passengers enplaned and deplaned, a current schedule of arrivals and departures, a current list of nonstop destinations, and information on general airport services. Information on other options for getting around Metro Tucson can be found on our Transportation page.
Food & Drink

Tucson has hundreds of places to enjoy original food and drink, including quite a few restaurants run by innovative chefs with national and international reputations.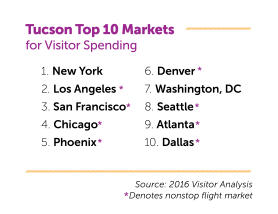 Accommodations

The number of hotel properties in metro Tucson is 151 with a rooms inventory of 15,319. (Smith Travel Research (STR)
Spas

Tucson is known as a spa getaway and is home to two of the top destination spas in the world - Miraval® Arizona and Canyon Ranch.
Golf Courses

Tucson and surrounding areas have over 40 municipal, public and private golf courses.
Events

Descriptions for annual events covering every month of the year that helps define Tucson and Southern Arizona's distinctive sense of place.
See how tourism supports our state and local economies.
Tourism Matters to Metro Tucson!
Visit Tucson generates $24 for the metro Tucson region for every $1 invested in the organization.
The travel industry is the leading export-oriented industry in Arizona. Spending by visitors generates sales in lodging, food services, recreation, transportation, and retail businesses. These sales support jobs for Arizona residents and contribute tax revenue to local and state governments.
In the metro Tucson region – City of Tucson, Pima County, and throughout southern Arizona – travel provides local jobs and generates tax revenue for city, county, and state governments.
Visit Tucson works to attract overnight travel that generates direct spending and tax revenue for our community. Those who benefit directly from tourism dollars range from servers at restaurants and staff at attractions to taxi drivers, shop clerks, and even local artists and musicians.
Taxes paid by travelers who vacation here offset our state and local taxes and help pay for public safety initiatives, new infrastructure, and community services.
Consistent funding for tourism promotion from local and state governments helps to ensure that our economy stays strong and our local community is able to thrive.
For more information:
Visit Tucson Annual Report & Marketing Plan

Brand USA Research & Analytics  |  AOT Economic Impact of Travel in Arizona  |  Arizona Lodging & Tourism Association
PARTNER RESOURCES
The information you need to make the most out of Visit Tucson's services.
As a Visit Tucson Partner you have access to our extensive resources, such as regional tourism data, the Visit Tucson Convention & Tour Calendar, opportunities to host "meet & see" gatherings, and logos to promote your Visit Tucson Partnership. Plus, you can update your website listing anytime, just by using the links below.
---
Industry Resources
Host a Visit Tucson "Meet & See" Event

Showcase your business to your tourism industry colleagues! Host a Visit Tucson "Meet & See" networking event to promote your property to local tourism industry employees. Promote your goods, services or entertainment by contributing to an upcoming "Meet & See" event. For information, call at (520) 624-1817 or E-mail: partners@visittucson.org.
Partner Events

Keep up-to-date on the tourism industry, network with other local businesses, and learn tips and techniques to market your business effectively at our "Meet & See" and special events.
Partner News e-Newsletter

"Partner News" is an e-newsletter for Visit Tucson Partners in Tucson and Southern Arizona. This e-newsletter communicates marketing initiatives and co-op promotions, as well as listings of upcoming Meet & Sees and educational seminars in which partners may participate. To view the most recent month's edition, please login to the Partner Extranet with your username (email) and password and it will be under Partner Bulletins on the Home screen. For more information, call (520) 624-1817 or E-mail: partners@visittucson.org.
Visit Tucson Departments Overview 

A quick explanation of the role and responsibilities of each Visit Tucson department to help you make the most of your Visit Tucson staff connections. 
Research & Facts

Who's coming to Tucson and when? How much they are spending and what they are doing.
Annual Report & Marketing Plan

The current state of tourism in Southern Arizona and Visit Tucson's plan for the upcoming year.
Working with Vamos a Tucson 

Capitalize on the growing Mexico market. Are you and the team Mexico Ready?
Mexico Marketing and Spanish Outreach
Promote your business to Mexico visitors and to Spanish-speaking visitors in the U.S. with our Mexico Marketing & Spanish Outreach Program. From digital billboards, and sponsored content on social media, to online advertising to Spanish-speaking visitors both domestically and abroad, this program gives your business the opportunity to design a flexible marketing package enabling you to purchase monthly, quarterly, or annual advertising designed specifically for your Spanish-speaking visitor audience.
Become a Tucson Tourism Ambassador

If you're looking to boost your business, give your staff the gift of expertise! The Tucson Tourism Ambassadors program can teach you how to turn every visitor encounter into a positive experience. Positive experiences result in return visitors, good word-of-mouth, and better tips. In other words, everyone benefits – the visitor, the industry, the local economy AND the ambassador.
Over 1 million unique annual visitors use our site to plan vacations, relocation, and meetings in Tucson and Southern Arizona. Build your business and connect to our local tourism and hospitality industry through our Partnership program.
Questions? Contact...
Meredith Lipscomb 
CTA, Partnership Development Director
mlipscomb@visitTucson.org
520-770-2170
Partner Extranet Menu
Resources for Travel Writers