Annual Report & Marketing Plan
Visit Tucson's mission is to elevate Tucson as the dynamic outdoor and cultural hub of the Sonoran Desert. Welcoming the world to Tucson to strengthen our vibrant community.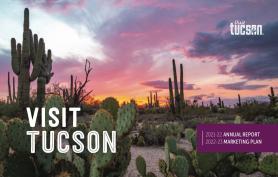 View our overview of the current state of tourism in Arizona, in Southern Arizona, and in Tucson and read about our department highlights from the 2021-22 fiscal year and plans for the 2022-23 fiscal year and beyond in the Visit Tucson Annual Report & Marketing Plan. View online or download the PDF here.