Caves
Giant crystal formations and bandit hideouts.
Delve deep and explore two spectacular limestone caverns made by nature over eons: Colossal Cave Mountain Park (below the Rincon Mountains near Vail) and Kartchner Caverns State Park® (beneath the Whetstone Mountains near Benson) are both surrounded by scenic wilderness, southeast of central Tucson. Besides tours of their massive underground labyrinths, both offer interpretive science exhibits and above-ground park areas with trail systems for hiking, wildlife watching, stargazing, and picnicking. 
A much smaller, man-made cave in the Earth Sciences Center at Arizona-Sonora Desert Museum is integral to a gemstone-and-geology experience that especially delights young visitors. 
Video: A Tale of Two Cavemen
Going Underground
If you've ever wondered about the earth below your feet, satisfy your curiosity by visiting the two show caves in southern Arizona: the living, underground oasis of Kartchner Caverns State Park® and the dry, crystal-filled maze at Colossal Cave Mountain Park. These amazing attractions have very different experiences so you'll want to explore both. Each offer guided tours that make it easy for novice cavers who want to discover spectacular natural wonders. Here is a glimpse of what you'll see down below:
Kartchner Caverns State Park®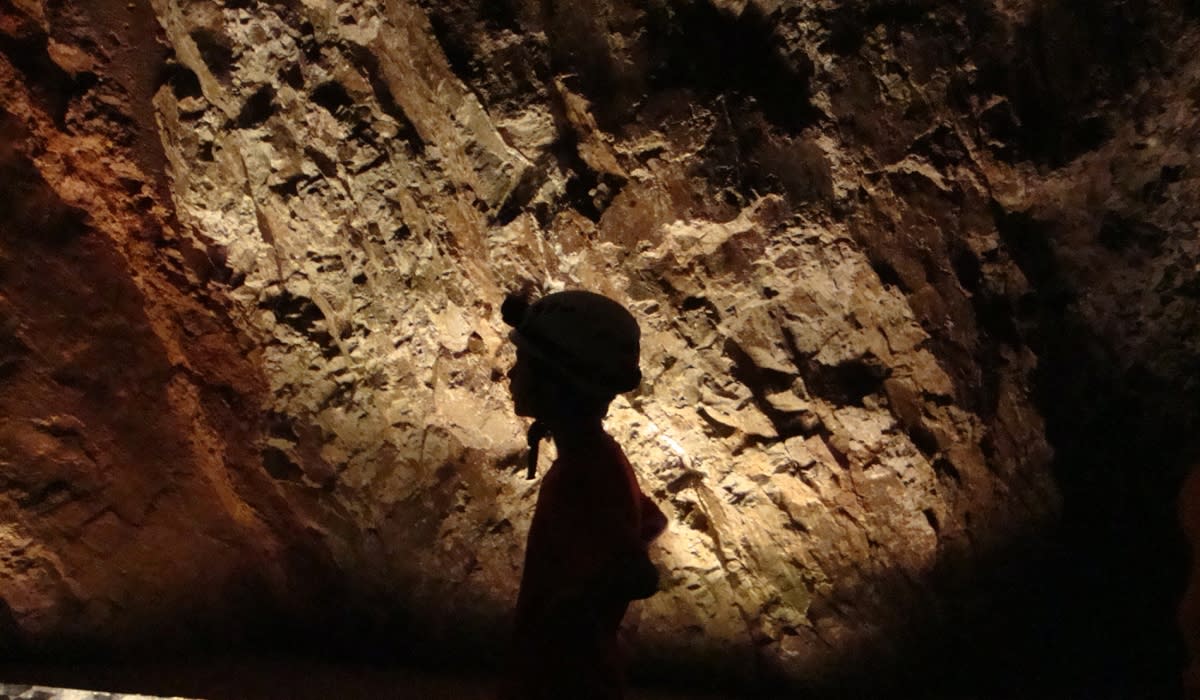 It was good fortune that the two young spelunkers who discovered the 200,000-year-old cave in 1974 appreciated this pristine treasure and initiated conservation efforts that led to the creation of the state park in 1999. The footprints of Randy Tufts and Gary Tenen can be seen preserved in a small lake of mud. Their early explorations can be replicated by visitors who go on the all-new Helmet & Headlamp Tour, a half-mile specialty tour available on limited basis.
Kartchner is a rare cavern that offers visitors a look at the entire family of colorful cave formations: stalactites, stalagmites, soda straws, cave popcorn, shields, columns, totems, drapery, bacon and the massive 58-foot-tall Kublai Khan column in the Rotunda Room.
If you wonder what it means for a cavern to still be in its virgin state, just check out the soda straws. They are not much thicker than kite string as they dangle from the ceiling for one, two, three, up to nine feet as seen on the tour. Another soda straw not within public view in Kartchner measures 21 feet. Hundreds of them precariously extend downward, many beaded with a drop of water at the tip that will only make them longer.
These caverns are extremely protected, thanks to delicate lighting and minimal human disturbance upheld by park staff. At the entrance, visitors must pass through four tightly sealed steel doors and be missed to remove lint and any other human particles that might harm the cavern. Inside, the temperature stays around 70-72 degrees with 98 percent humidity to foster the growth of new formations.
Kartchner Caverns State Park® is located about 55 miles southeast of Tucson, Arizona. Tours are offered frequently by guide only. The trails inside are paved and wheelchair-accessible. Tickets can be reserved online and by telephone. A Discovery Center, with interactive exhibits and a video explaining many aspects of the cave, including its important role as a nursery roost for cave bats, and picnic areas are available on site.
Colossal Cave Mountain Park
A maze of winding passageways makes up the subterranean landscape of Colossal Cave, located on the grounds of 2,400-acre Colossal Cave Mountain Park. As its name implies, Colossal Cave is massive. There are about 3.5 miles of mapped passageways and many miles of natural tunnels yet to be fully explored. Inside, the temperature is always 70 degrees.
Colossal Cave is an ancient "karst" cave system forged out of limestone rock by water erosion over hundreds of thousands of years. The water source has disappeared and the formations are not growing so it's now called a "dry" cave. There are many geological gems to see in this crystal-filled underworld, including formations like stalactites, stalagmites, flowstone, boxwork, and helictites. The cave bacon and popcorn are popular with kids.
For outdoor adventurer-seekers willing to navigate some tight spaces, a variety of tours and advanced caving treks offer a relatively safe introduction to cave exploring and spelunking. All the tours are guided and most have age restrictions.
The Ladder Tour, offered by day and by night, ventures into mysterious, off-route areas of the cave that harbor exquisite geologic specimens. Participants don hard hats with lights and climb up ladders, slide through narrow passages, scramble across bridges and see cave formations (and possibly a dozing cave bat) up-close. Participants must be physically fit, agile and able to scale obstacles and negotiate tight squeezes (the equivalent of a "cave hug").
Advance notice is required for the Candlelight Tour, a re-creation of how the first recorded modern explorers saw the cave in 1879. The Wild Cave Tours for advanced and intermediate cavers follow the footsteps of outlaws and early inhabitants through unlit, unmarked, and rarely seen passageways that extend a quarter mile into the depths of the Earth.
For the curious but less adventurous, the Regular Tour takes about an hour to complete. The tour guide relates the cave's history, geology, and legends (is the cave haunted?) as visitors walk down and back up a route that is about a half-mile long.
Colossal Cave Mountain Park is located about 22 miles southeast of downtown Tucson, Arizona. Cave tours are given daily, on the hour, year-round. The park is listed on the National Register of Historic Places and includes a historic ranch, a gift shop, hiking and biking trails, horseback riding and picnicking and camping sites.