Lakes & Rivers
No water in the desert? Guess again.
Water is probably the last thing you would expect to find in a desert but if you look around you'll be surprised. Because this crucial element is so scarce here it becomes much more important and enchanting when you do find it. In the winter months you'll often find snow on some of the five mountain ranges that surround Tucson. That means when spring comes around and the snow melts, precious water is added back into the desert. And in the summer months the locally loved monsoon rains bring a much-needed quench. Though it can be sporadic this precipitation leads to flowing rivers and streams and even several lakes fit for boating and fishing.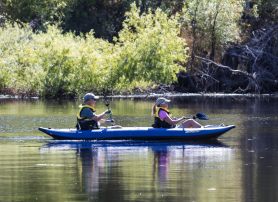 Take a Drive or a Hike to get your feet wet in the Sonoran Desert
Depending on the season, some of Southern Arizona's top recreation areas have water to be found. You can hike to a variety of desert streams and pools to take a dip in places like Sabino Canyon, Bear Canyon, and Catalina State Park.
If it's lake life you're after you'll find that too. Head south of Tucson for a leisurely day of fishing at Patagonia Lake State Park. Or head towards Mt Lemmon to find the pine-studded Rose Canyon Lake. Just remember, even if you're hiking to water make sure you bring plenty of your own to drink.
The Summer Monsoons
If you ask people who live in Tucson what their favorite part of summer is, we'd be willing to bet that every last one of them would say it's the Monsoons. These spectacular summer storms come in the afternoon bringing lightning shows and precious desert rains, awakening the plants and animals (and even the humans) that are otherwise hunkering down through the hottest days of the year.
Video: What is a Monsoon?