Tucson is a modern city, sure, but you don't have to go far to find a taste of the Old West.
Start light. Experience a romanticized, entertaining view at Western-themed attractions with rides, shopping, and dining: Trail Dust Town boasts Wild West stunt shows, a military museum, and a shooting gallery. Explore the history of Old West cowboys at the Arizona History Museum in Tucson, Graham County Historical Society's museum in Thatcher, and the restored compound of the John Slaughter Ranch near Douglas.
Your First Rodeo?
Tucson's La Fiesta de los Vaqueros (The Celebration of the Cowboys) in February features one of the nation's top 25 professional rodeos, the world's longest non-motorized parade, and a museum of horse-drawn transport. The Marana Western Heritage Arena hosts several rodeos for regional competitors. Día de San Juan in June highlights Mexican equestrian riding and roping traditions of charros and escaramuzas charras. Sonoita stages a fall rodeo, and the county fair tests cowboy skills such as cattle sorting and penning.
Video: La Fiesta de los Vaqueros
Live the Part
Cowboy life inspires. Enjoy Western music performances at the Arizona Folklore Preserve in Hereford, the Annual Cochise Cowboy Poetry & Music Gathering in Sierra Vista, the Tombstone Western Music Festival, and Willcox's Rex Allen Days, which honors the hometown Hollywood cowboy. The Tucson Museum of Art regularly showcases iconic visions of the American West—from paintings to photographs. To dress the part, find Stetsons and blue jeans at vendors around town, then scoot yourself over to popular watering holes for some two-steppin'.
Saddle Up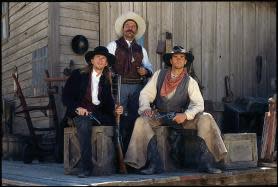 To authentically cowboy up, you need a horse. Whether you're riding for the first time or know your way around a saddle, you'll find an equestrian experience in Southern Arizona. Riding stables in the Tucson metro area lead excursions into the mountains and desert that last from a half-hour to all day. Some have special rides such as under-the-stars camping or chuckwagon dinners. Westward Look Wyndham Grand Resort & Spa, Hacienda del Sol Guest Ranch Resort, Colossal Cave Mountain Park, and Old Tucson offers rides.
Southern Arizona's guest ranches surround you with the cowboy experience. You can ride all day and into the night, plus play corral riding games and get lessons. Guest ranches, such as White Stallion, are real, rich, and rugged, providing plenty of non-horse activities, great food, comfortable accommodations, and iconic Western views. Ready for a bigger adventure? Use your riding experience to help Tanque Verde Ranch drive cattle to pasture.
More than just saguaros and Sonoran hot dogs, Tucson, AZ is a cultural and natural hub where visitors can experience the Southwest as it was meant to be. In the heart of the Sonoran Desert, Tucson offers a modern perspective of the old west.