Becoming a cultural icon
The son of Italian immigrants employed in mining, Ted realized early on that his father's life wasn't for him, so he hitchhiked to Tucson to study art at the University of Arizona. Struggling for some time, heading to Mexico City to work with Diego Rivera, trying (and failing) to sell his work on the side of a Tucson road—DeGrazia's road to artistic success was a long one.
The 1940s brought a change in style and methodology (painting with a palette knife, putting his brushes aside), which led to a burst of success that was almost unmanageable for DeGrazia, leading him to work nonstop creating the celebrations of Southwestern life that he's known for today. By the 1960s, DeGrazia's work was seen on Hallmark cards and then on a UNICEF holiday card that sold millions of copies.
Whenever the film biography Ettore: The Ted DeGrazia Story is released (not a thing yet, to our knowledge), it'll be a wild ride of a movie, but the main plot line might be DeGrazia's labor of love building his studio, home (and eventual resting place), the Gallery in the Sun. Frustrated by the city's encroachment on his former studio at Campbell Avenue and Prince Road, DeGrazia went farther north, buying 10 acres in the foothills of the Santa Catalina Mountains. DeGrazia built on the space, fueled by his passions. As he told an architecture publication, "In my home, my studios...and my new gallery, I have tried to capture the feeling of what I am, and with reverence and respect for the land from which I came. What I find around me is what I use." While the city has caught up again to DeGrazia's creation, the Gallery in the Sun is still a refuge drawn around its creator's vision of the Sonoran Desert.
It's an amazingly beautiful place–you can tell from the photos you see here or online—but once you walk past the ornamental gates and see the adobe buildings surrounded by the lush vegetation of the desert, there's a solid chance your breath might be briefly taken away. The buildings, in particular the 16,000-square-foot Gallery in the Sun itself, blend into the landscape, but also exist as one of DeGrazia's greatest works.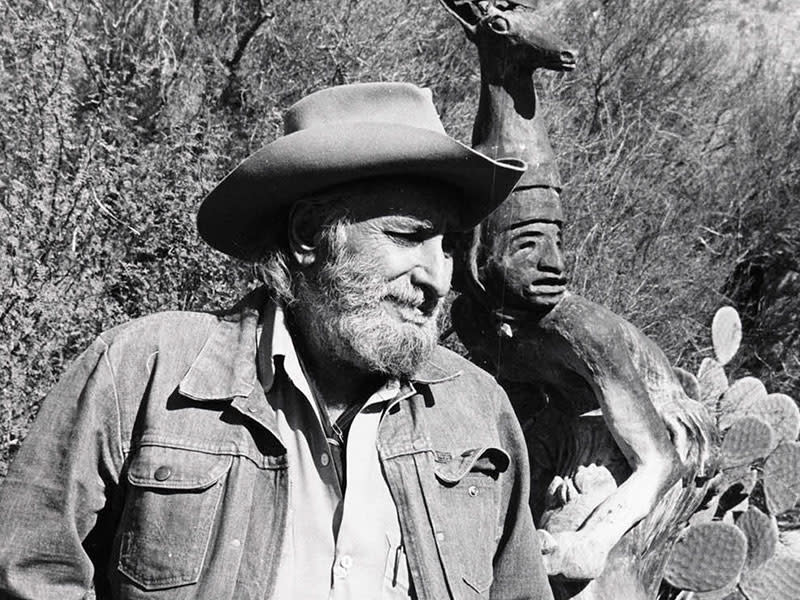 Ettore "Ted" DeGrazia, Courtesy of the DeGrazia Foundation
DeGrazia had an antagonistic relationship with the growth of Tucson, writing, "Some of the architects in Arizona work as though they are trying to fit a circle into a square. They ride against the natural laws of the Southwest. They fight the country instead of riding with it." There's no question that DeGrazia was successful riding with the spirit at the borderlands. For decades, it's been DeGrazia's admiration and understanding of the Southwest that has lured visitors, going beyond art appreciation and letting them experience a deep sense of place.
The gallery is open year-round with permanent and rotating exhibits, giving visitors an opportunity to experience where DeGrazia combined art with home. There's also the recently renovated little chapel, Mission in the Sun—which survived a devastating fire—and a 30-minute video which tells the story of his life (June 14, 1909–September 17, 1982) along with a small but carefully curated gift shop if you'd like to take a piece of DeGrazia's image of Tucson with you.
Every June 14, there's a celebration at the DeGrazia Gallery in the Sun, complete with cake and ice cream– even though it's been more than 100 years since Ettore DeGrazia (better known as "Ted") was born in Morenci in what was still the Arizona Territory.