Tucson is the ideal city for outdoor dining.
by Eric Swedlund
Dining al fresco in Tucson—whether it's under the stars, a brilliant sunset, or the bright-blue midday sky—is a distinct pleasure. While you'll find options across the city, at all price points, and in a wonderful variety of cuisines, locals and visitors alike flock to favorite spots where the food, drinks, and atmosphere create an exceptional experience any time of year.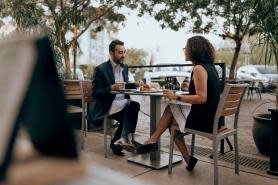 In the heart of downtown, the Cup Café at Hotel Congress has served diners in Tucson for nearly thirty years and continues to win accolades for its exceptional breakfast, lunch, and dinner dishes. Weekend brunches are lively, featuring the build-your-own Bloody Mary bar and the signature Cast Iron Baked Eggs. During happy hour on Thursday and Friday nights, either dine in the Cup or order from the Tap Room or lobby bars—the pork belly tacos and fish tacos are an absolute steal— and sit back on the patio for free live music from artists such as treasured folk singer Salvador Duran and the incomparable blues singer-guitarist Tom Walbank.
Across the street in Tucson's historic train depot is another part of the Hotel Congress family, Maynards Market & Kitchen, with seasonal menus creating innovative takes on the freshest ingredients available and an expertly-selected wine list. Subtle design details of Maynard's spacious back patio take inspiration from Tucson's railroad history, yet the outdoor atmosphere overall skews toward the romantic—perfect for comfortable Southern Arizona evenings.
In the historic Presidio section of downtown, covering part of the original fort constructed by Spanish soldiers in 1775, La Cocina is a hidden gem of a restaurant in the courtyard of Old Town Artisans. "Tucson's Venue with a Menu," La Cocina hosts live music and features two bars: the rustic Cantina, with a focus on Tucson's booming craft-beer scene, and the newer Dusty Monk Pub, a European-style pub that features an extensive selection of Belgian and German beers. La Cocina's tasty menu—from the weekend brunch to the lunch mix of innovative and classic sandwiches to Mexican-inspired dinner entrées to the late-night tacos grilled outside—is a match for the beautiful courtyard setting, centered around a small waterfall and pond. The spacious two levels are filled with trees whose limbs are wound in strands of twinkling lights. Even when La Cocina fills up, the easygoing and friendly crowd gives the patio the vibe of a backyard gathering. 
"Dining al fresco in Tucson—whether it's under the stars, a brilliant sunset, or the bright-blue midday sky—is a distinct pleasure."
Nearby, Café à la C'Art makes the most of its novel location inside the courtyard of the Tucson Museum of Art. The quaint patio is enclosed by a trellis overflowing with greenery and features an appropriately artistic sunflower mosaic, lending an air of serenity to any meal. The country-style café, listed in Food & Wine magazine's 2014 list of the country's best museum restaurants, specializes in sumptuous baked goods. Specialties include the green eggs and ham for breakfast and brunch, scones (like the popular cherry vanilla), a lunch menu of sandwiches both classic and creative, one of Tucson's best happy hour specials on beer, wine, cocktails and, of course, the vast array of delightful desserts.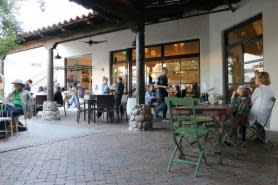 Anchoring the wildly-popular Mercado San Agustín, at the western terminus of the Sun Link streetcar line, is Agustín Kitchen. The classically styled marketplace offers several dining options for those looking to enjoy a bite outside on a beautiful plaza. Looking for a coffee break? Stella Java will pour you a delicious cup made a variety of ways and you can step next door for a snack from La Estrella Bakery. Mexico's wide array of cuisine is on display at Seis Kitchen and Agustín Kitchen has incredible cocktails and inspired cuisine for the most impressive of date nights.
Main Gate Square, the area along University Boulevard between Euclid and Park Avenues, is also a go-to destination with a variety of options for patio dining. Before a Broadway touring show or concert at Centennial Hall, stop by the patios of No Anchovies and Frog & Firkin, enjoying pizza and pub specialties and countless flat-screen TVs. 
Just a quick streetcar ride away from campus, North Fourth Avenue is the quintessential Tucson shopping and dining strip. Step into patio dining at Athens on 4th Avenue, a restaurant with scrumptious and authentic Greek cuisine, and the venerable Caruso's, serving fine homemade Italian dishes since 1938. Also popular are family-friendly Magpie's Gourmet Pizza and The Coronet, a brasserie-style restaurant with an Old World flair.
Other outdoor dining favorites are at Broadway Village, on the southwest corner of Country Club and Broadway. Try Falora, featuring hand-hewn Napoli pizza, and Sushi Garden, which is always bustling with its fish-loving crowd. Farther north, you'll find the always-delicious Blanco Tacos + Tequila at La Encantada. Its patio and its portions are generous. The downtown landmarks El Charro Café and Cushing Street Bar & Restaurant are always a treat, and urban sidewalk patios—such as the new brunch hot-spot 5 Points Market & Restaurant in Barrio Histórico, featuring smoked-salmon eggs Benedict and a fresh spin on huevos rancheros.