Get An Earful of Tucson's Music Culture
by Eric Swedlund
Can you hear the sound of Tucson in the music played here? The Sonoran Desert, the borderlands, the cross-cultural influences, the sunbaked vibe can all exist—in one way or another— in the fusion of styles and sounds prevalent in the local scene.
In the shadow of Sentinel Peak, near the historic birthplace of Tucson, you might catch an exciting young band like Los Esplifs, a synth-forward cumbia act, on the open-air stage at MSA Annex, the sky full of stars and a venue full of people dancing. On one of the recently opened jazz stages downtown, at the Westerner, or in the front room at Hotel Congress, Arthur Vint could be behind the drum kit, leading a band of luminaries through standards and originals, all performed with skill and swing. Maybe you'll be lucky enough to see Peter McLaughlin's bluegrass act, Sonoran Dogs at Monterey Court, finding out why he's won numerous awards for his guitar prowess. These might not be the options when you happen to be in Tucson, but most nights, your options will be just as good, if not more plentiful.
No one sound or style defines Tucson music—not in the past and certainly not today—but, like the chefs who make up the city's renowned culinary scene, musicians deftly borrow from different traditions and add their own personal touches. So, whether it's the spaghetti-western desert noir of Calexico, the indie-mambo of Orkesta Mendoza, or XIXA's cumbia-tinged psychedelic rock, there's plenty of inspiration in Tucson for captivating music. This is the city where you have the musical experience that turns into a mildly-bragging anecdote someday – "You saw them back then? In a venue that small?" Every Tucsonan has their version – whether it was 1975 on the Hotel Congress stage or Green Day way back when at the Downtown Performance Center.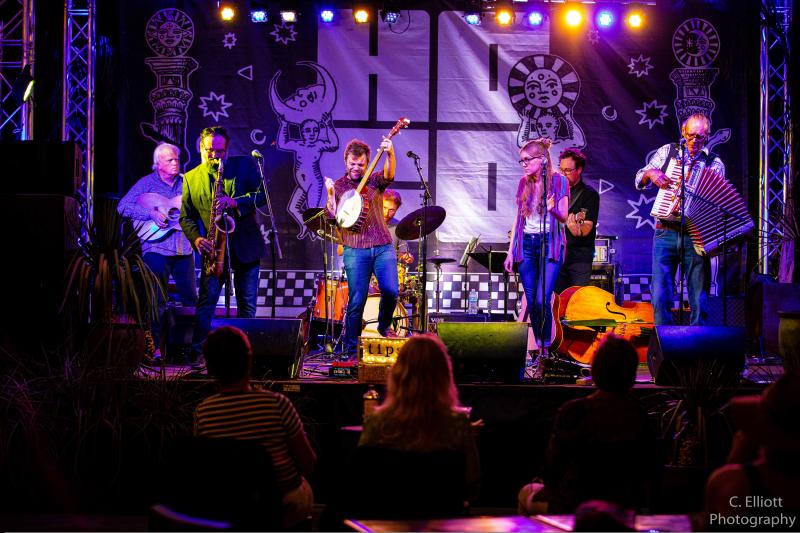 Any night of the week, clubs and venues clustered in the city's historic core along Fourth Avenue and throughout downtown offer jazz, folk, rock, and blues in myriad combinations. Community radio station KXCI91.3 FM has played local music on the airwaves for more than 35 years. With its long-standing "Locals Only" program and a studio in the Hotel Congress, KXCI is committed to its slogan: Real people, real radio.
Congress Street's downtown entertainment strip is anchored by two historic theaters: to the east, the Rialto Theatre, which hosts top touring rock, hip-hop, dance, and country bands (just take a look at their calendar online, you'll certainly find something you want to see); and to the west, the Fox Tucson Theatre, a fully seated venue known as the "Crown Jewel" of downtown, beautifully restored to its southwest art-deco vaudeville-era glory. Also, in the heart of downtown is Club Congress, the longest-running venue of its kind west of the Mississippi, with music seven nights a week: local and national, indoors and out. 
These venues are so entwined that if you head to Congress after a show at the Rialto, you might just see the band that just sold out a show on the west side of the street grabbing a drink on the east side of Congress and Toole. The world's mega-acts also make stops here in Tucson, including the stages of the Tucson Convention Center, the summertime shows at the AVA Amphitheater at Casino Del Sol, and at the University of Arizona's Centennial Hall.
Tucson's creative soul is a restless one, spawning a variety of off-the-beaten-path settings for enjoying music beyond traditional venues. There's a wealth of talented acts playing in converted warehouses and breweries, including 191 Toole, MotoSonora, and Borderlands Brewing Company, beloved neighborhood bars such as local-favorite Che's Lounge, hip-hop beats at Mr. Heads or Thunder Canyon, and Tucson's legendary Fourth Avenue LGBTQ+ club, IBTs. Plus, you can find live music just about anywhere in Tucson, possibly including the place you're thinking of staying if hotels like Hotel McCoy, The Downtown Clifton, or The Tuxon are in your plans. What might be most magnificent about Tucson's music scene: there's rarely a barrier to enter, like some coolness factor that must be reached to enjoy the fun. Just show up, ready for a new experience.
In a town known for its fiestas, it's no surprise that Tucson's musical scene loves a big get-togethers. Annual music festivals span the calendar in 2022, regrouping from the perils of the pandemic. The Tucson Jazz Festival arrives in January, with nearly two weeks of performances from national headliners and locals alike, spanning the full spectrum from traditional to avant-garde to Latin jazz. In April, the long-running Tucson Folk Festival fills downtown for a weekend of free roots-music performances by more than 120 acts.
Check the calendar for the annual Dusk Festival, which draws uber-hip EDM, hip-hop, and rock performers for fans of Coachella and Lollapalooza. And the big daddy of them all— the Tucson International Mariachi Conference— will celebrate its 40th year in May 2022. This gathering of mariachi bands and Folklorico dancers includes masterful performances, an outdoor festival, and a traditional mariachi Mass.
Musicians can search the shelves and storerooms of institutions such as the Chicago Store and The Folk Shop for instruments and gear like that next guitar just waiting to be found.
Local studios with state-of-the-art equipment and talent— WaveLab, Dust & Stone, and Midtown Island—actively record local and touring bands, each carving out a niche, blending vintage and top-of-the-line gear. For putting the music out into the world, Tucson's small independent record shops—check out Wooden Tooth Records and Old Paint Records—are a bin-hunter's dream.
If Austin is the new Live Music Capital of the World, Tucson is the up-and-coming sibling, the next big thing. So, catch on now. Go see a band tonight.