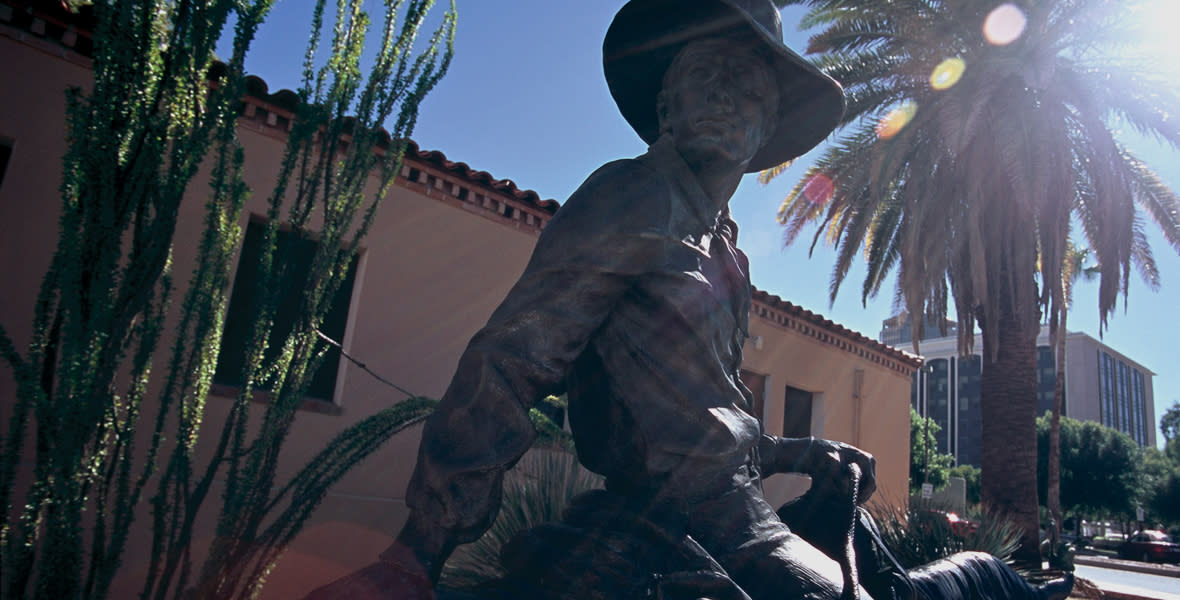 THE GREAT SOUTHWEST
Tucson's rugged beauty and rich heritage make it the perfect place to immerse yourself in the culture of the region. From centuries-old churches to hidden caverns, here's how to discover the wonders of the Southwest.
DAY 1
MORNING
Desert, Plus Dessert. Connect with Sonoran Desert nature, art and culture at Tohono Chul park, named one of the world's 10 best botanical gardens by Travel + Leisure magazine. Explore 49 acres of desert, peruse indoor and outdoor galleries, and enjoy brunch with a prickly pear mimosa on one of the bistro's gorgeous patios.
AFTERNOON
Gallery of Rogues. Discover works of the American West as well as incredible local history at the Tucson Museum of Art and Historic Block. (For example, Hiram Stevens, who owned one of the buildings in the historic block, tried to kill his wife, Petra, in 1893 by shooting her; she was saved by the heavy Spanish comb she wore in her hair.)
EVENING
Spend Sundown in the Saddle. There's no better way to wind down the day than with a 11⁄2-hour sunset guided horseback ride at Tanque Verde Ranch. Traverse desert trails past saguaros, ocotillos, and wildlife, with spectacular views of the Sonoran Desert and Rincon Mountains.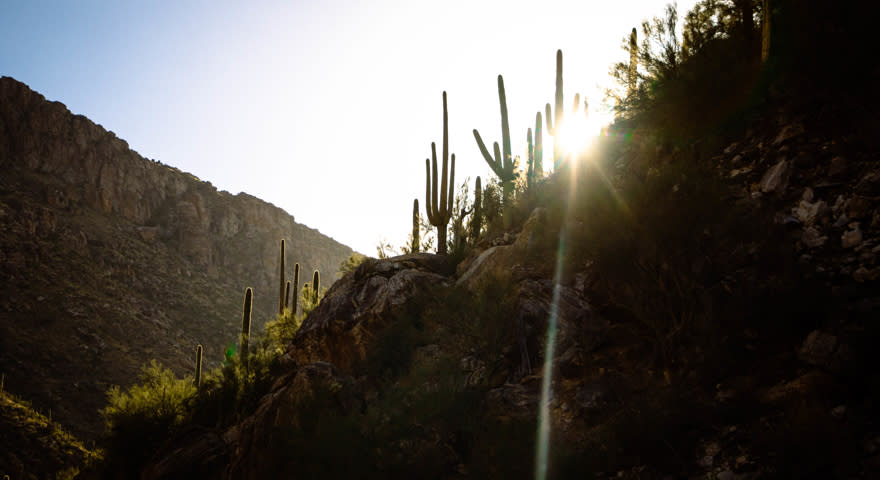 DAY 2
MORNING
Go Canyoneering. More than a million people a year traverse the trails and canyons at the Sabino Canyon Recreation Area in the Coronado National Forest. For a head start on one of the most popular hikes, take a 45-minute, 3.8-mile narrated tram ride with Sabino Canyon Tours, then hop off at the trailhead of Sabino Canyon Trail to begin your four-hour (round-trip) hike on foot.
AFTERNOON
A Jewel of a Treatment. Reinvigorate post-hike muscles and restore your spirit with a massage at one of the city's stunning spas. Whether you retreat to The Westin La Paloma in the Catalina Foothills or Casino del Sol on the west side of town, you're sure to find an afternoon of relaxation.
EVENING
You'll Swear It's Delicious! Order a chimichanga at the restaurant that claims to have invented it (which also is the nation's oldest Mexican restaurant in continuous operation by the same family). Legend says that Monica Flin, who founded El Charro Café in 1922, accidentally dropped a burro into a frying pan filled with hot oil and began to say a curse word, but realized her nieces and nephews were within hearing distance and said "chimichanga" instead.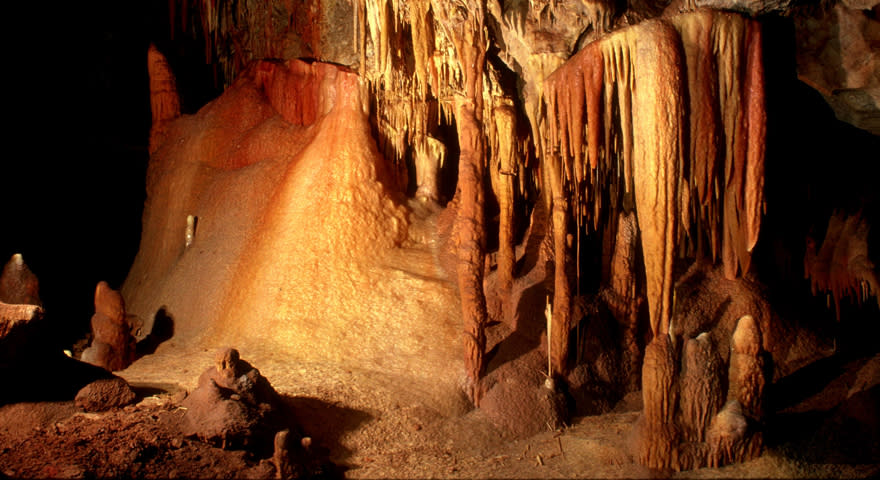 DAY 3
MORNING
Turn on Your Head Lights. Explore the massive limestone cave at Kartchner Caverns State Parks like the discoverers did back in 1974—with only the light of your headlamps for illumination—on the Helmet & Headlamp Tour. (Nychtophobes, fear not: Other, fully lit cavern tours explore even more of the caves and subterranean passages.)
AFTERNOON
Garden Party. Tour the public gardens, orchards and vineyards of the Mission Garden Project, which re-creates eras in the city's diverse, 4,000-year agricultural history. Tucson is the only city in the United States that's been named a UNESCO World City of Gastronomy.
EVENING
Dinner Around the World. The dinner at the international reception honoring Tucson's UNESCO designation was created by James Beard Award-winning chef Janos Wilder, whose Downtown Kitchen + Cocktails dedicates part of its menu to a traveling exploration of international cuisine. Whether you're hungry for a taste of Arizona or a country on the other side of the world, you'll be satisfied here.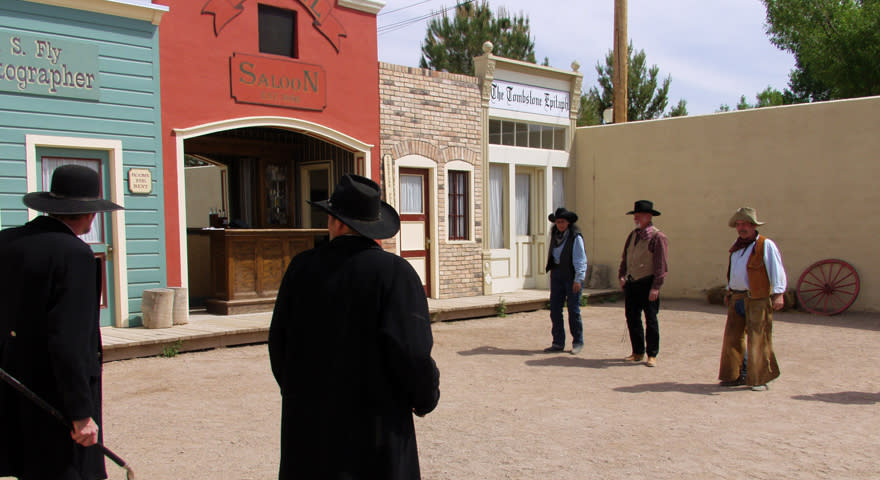 DAY 4
MORNING
Witness Marshal Law. Head to Tombstone, "The Town Too Tough to Die," and tour the O.K. Corral, where Wyatt Earp and Doc Holliday battled the Clantons and McLaurys in a legendary 1881 gunfight.
AFTERNOON
Head for the Hills. Explore the streets of downtown Bisbee, a former frontier mountain mining town that's now a freewheeling getaway for cultural creatives and folks who long to swap an everyday existence for something extraordinary. For dinner, head to Café Roka, where the menu is based on ever-changing locally sourced ingredients.
EVENING
Experience the Wheeled Deal. For a memorable midcentury moment, check in to The Shady Dell outside Bisbee and spend the night in one of the motor court's vintage trailers.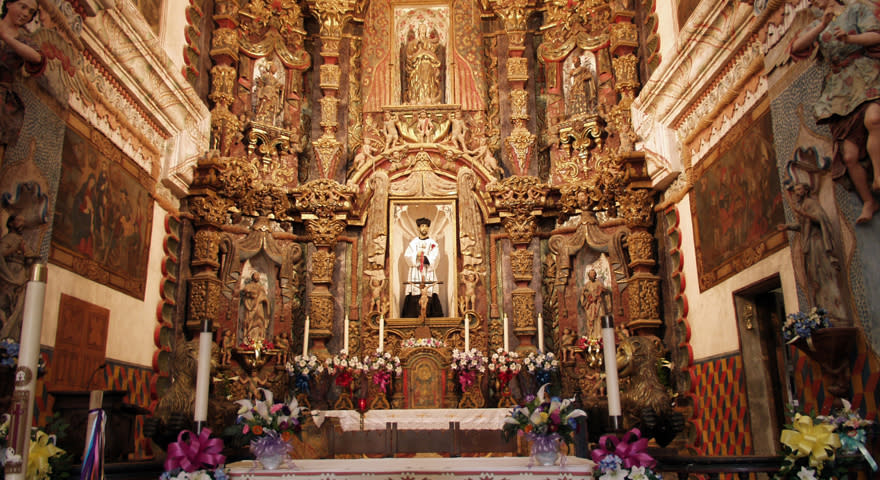 DAY 5
MORNING
Make It Your Mission. Jesuit priest Eusebio Kino, who founded San Xavier Mission in 1692, was a staunch defender of the Tohono O'odham, fighting against European colonists who tried to steal native land. The mission building, completed about 100 years later, is filled with impressive statuary and paintings.
AFTERNOON
Check Out the Music (and Into a Room). The Hotel Congress, built in 1919, hosts both landmark lodging and a hopping live music scene. From here, it's easy to explore Congress Street, the city's cultural hub that's home to art museums, craft breweries and historic theatres.
EVENING
Take Flight. ¿Te gusta la tequila? Sample several spirits at Elvira's restaurant, which offers multiple flights of tequilas and mezcals, in addition to inspired Mexican cuisine.
PLANNING A LONGER STAY?
Read more at visittucson.org
Travel Through Tucson's Rich History. Arizona only became a state in 1912, and the…