Murals
The old and the new through awe-inspiring murals
As a historic Old West town, Tucson, AZ, is overflowing with stories. As a modern western city, new stories come to life every day. Combining this old with the new, you can find these narratives told through stunning murals throughout the city. Whether driving around Tucson to enjoy these outdoor art exhibits or scheduling a guided bike tour to experience some of the best murals Tucson has to offer, this captivating street art will amaze.
Dreamlike Bike Rides
Joe Pagac is undoubtedly one of Tucson's most prolific muralists. Located at Sixth Street and Stone Avenue, covering over 4,000 square feet, his larger-than-life "Epic Rides" features a western couple riding bicycles with a javelina, a tortoise, and a jackalope trailing close behind, also having a blast on bikes. 
Find another must-see Pagac mural on the corner of Campbell Avenue and Grant Road. The "Sky Islands (Whale Mural)" features giant whales swimming through the sunset over a Sonoran Desert landscape.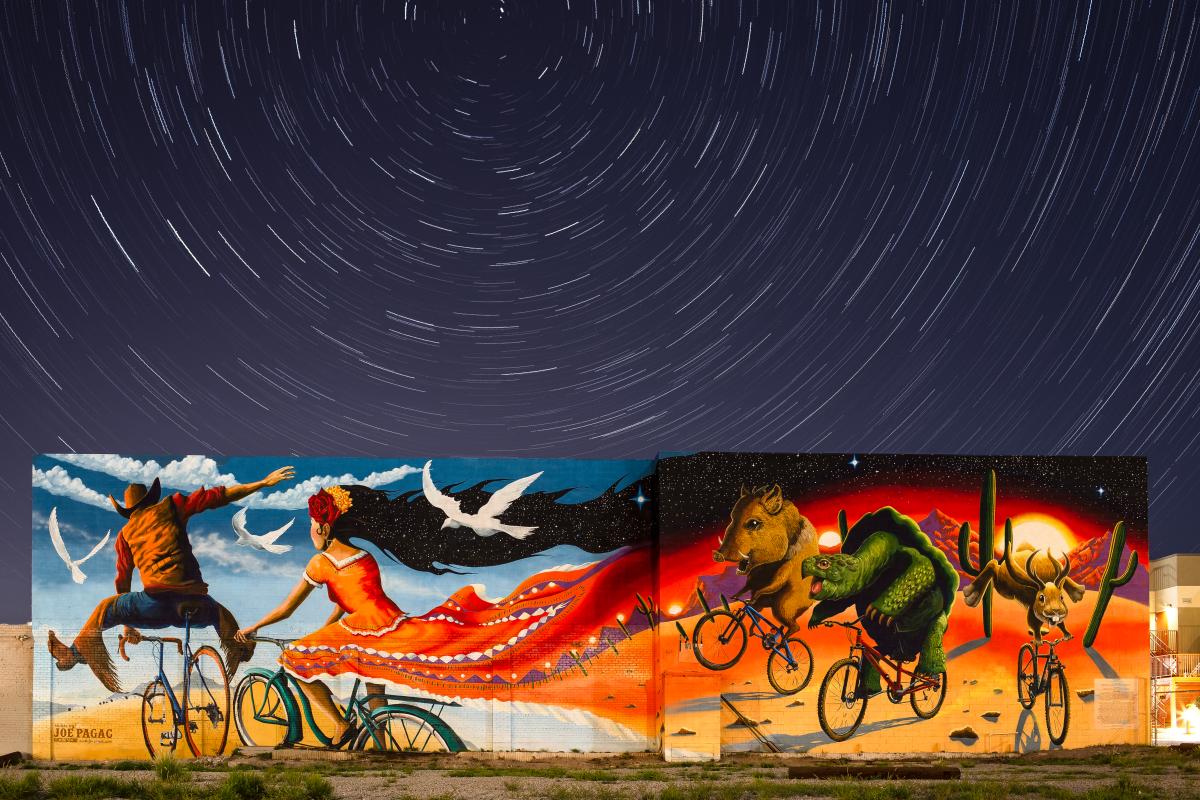 "Epic Rides" by Joe Pagac  
Surreal Upgrades
Another Tucson muralist upgrading our city landscape is Rock Martinez. His "Goddess of Agave" piece features a colorful depiction of the goddess and is one of the most celebrated murals in town. This hypnotic mural covers a 50 by a 54-foot wall of the historic Warehouse and Transfer building at 100 East 6th St. 
For another dose of Martinez's work, head a few blocks over to Sky Bar, located at 536 N. 4th Ave. There you'll find "Crested Eclipse," a mural covering the long back wall of the music venue and bar. "Crested Eclipse" is another surreal piece with a young woman with arms extended, saguaro and other cacti growing from her hair and butterflies, and a twilight eclipse in the background.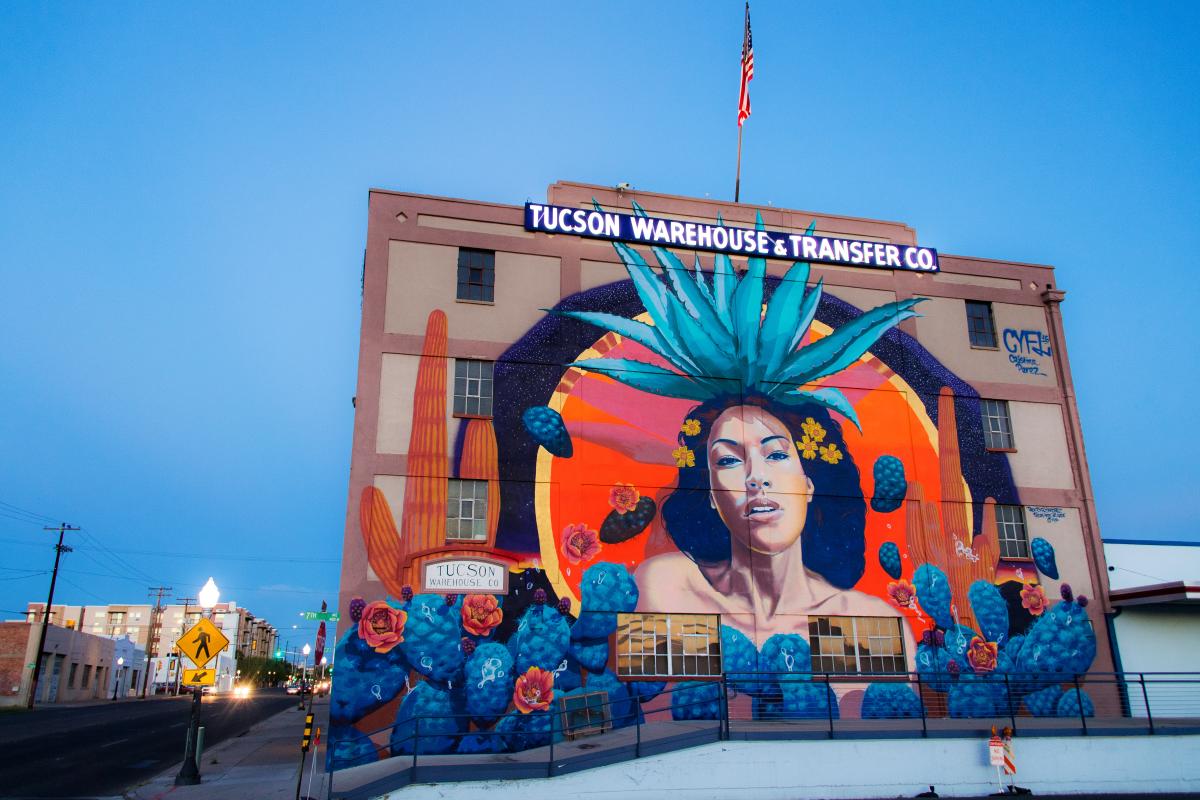 "Goddess of Agave" by Rocky Martinez  
Expanded Imagination
Also, conveniently located at 411 N. 4th Ave, you'll find a Jessica Gonzales mural painted on the parking lot wall of Antigone Books. The piece "Imagination Navigation Sonoran Sea" displays the way books encourage us to use our imagination as the mural's subject reads a book that comes alive across this stunning mural. 
There are many Gonzales murals to discover. We suggest hitting up The Loft Cinema at 3233 E. Speedway Blvd to marvel at her giant piece on the theater's side. It features a woman staring up at presumably a screen with her many hands in various positions showing different emotions, much like one does when watching an exciting film.  
"Imagination Navigation Sonoran Sea" by Jessica Gonzales  
Keep the Murals Coming
Next, head over to downtown's Congress Street District to the historic Lewis Hotel building at 178 E Broadway Blvd. Fin DAC's piece "Vergiss" presents a mysterious female subject with red painted around penetrating eyes and hands appearing in prayer or concern. The tattoo on her arm reads "Forget Me Not," which beautifully contradicts the mural's title, which is the German word for "forget."
 
While in the Congress Street District, don't miss Ignacio Garcia's "Running of the Piñatas" mural, located at Sixth Avenue and Congress Street next to Donut Bar. This large mural depicts a boy running from four piñatas, apparently seeking vengeance. The highly imaginative scene will surely bring a smile to your face. 
 
No Tucson mural art list is complete without the work of Danny Martin. Swing by the live music venue, 191 Toole, located at 191 Toole Ave, to experience his massive mural tribute to famed Tucson painter, the late Ted DeGrazia.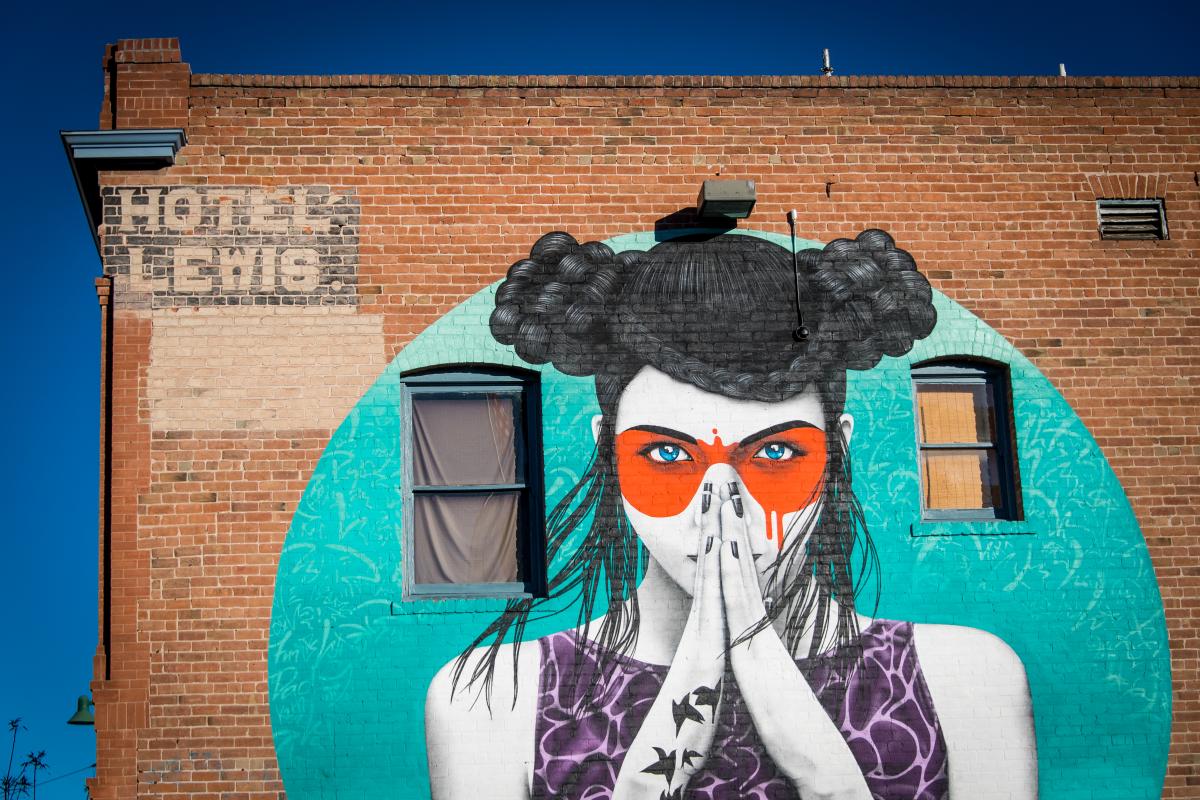 "Vergiss" by Fin DAC