Mountain Biking
From Mellow to Full-Send, Tucson has the Trails.
Tucson has been hard at work crafting its own unique cycling culture for decades, and mountain biking is a key ingredient. With varying terrain and a ridiculous number of trails suited for all levels, Tucson proudly serves up hundreds of miles of singletrack all around the city, providing an endless assortment of challenges. Cruise the lowland desert trails for extended cross-country riding, or head up to the mountains for technical, leg-scorching climbs and some fast, flowy descents. And with the range of trails at different elevations, it's Never Not Riding Season in Tucson.
Video: 24 Hours in the Old Pueblo
The plants and animals that are part of the Sonoran Desert's claim to fame can also make for a bad time if you don't respect them. Keep an eye out for snakes and other animals on the trail and watch for cacti and sharp desert plants as you're flying down stretches of singletrack. Consider bringing a pair of tweezers or small pliers with you for any possible thorny encounters. Local riders will also tell you that a pick-style comb can be a helpful tool if you have a run-in with the particularly rambunctious cactus known as the "Jumping" Teddybear Cholla. Also be aware that the rugged, rocky trails and unique vegetation that make desert riding so appealing can also easily lead to flats, so if possible, run a set of thick tubeless tires with sealant.
Other than that, all the other universal rules of trail safety apply: Always wear a well-fitted helmet and any other protective gear that you may have in your arsenal. Research the trail you plan to ride ahead of time to ensure you know what you're up against and any restrictions that may be encountered. Share the trail with other riders, hikers or anyone else who is out there enjoying it with you. And most of all, enjoy the ride!
Video: Tucson Pro-Tips with Todd Wells
Beginner Trails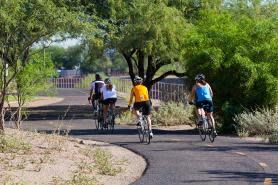 The Chuck Huckelberry Loop 
Try this 100% family-friendly system of car-free paths that surround Tucson allowing for riders to almost completely circumnavigate the city. Most paths are paved but there are certain opportunities to get in the dirt and it allows for a fun way to get just about anywhere in town on your bike without having to worry about those pesky things we call cars. Basically, If you can ride a bike, then you can ride The Loop. Just remember this is a shared-use path so watch your speed and keep an eye out for walkers, runners, and even horses!
Fantasy Island 
This classic trail system on the east side of Tucson is comprised of a series of interconnected loops that provide fun no matter your level. However, we place it in the beginner category because less-experienced riders can enjoy this system without the worries that come along with some of Tucson's more advanced trails. It's close to town, well-traveled, and has only a few semi-technical sections that are easy to navigate if you're keeping an eye out.
Click Here for a map of Fantasy Island. 
NOTE: Please be mindful when thinking about riding Fantasy Island after significant rainfall. If your tires are making a mark or collecting mud, this can do lasting damage. As a guideline after very wet conditions:
Wait at least 24 hours to ride the North Loops
Wait at least 48 hours to ride Bunny Trail
After things dry out, proceed with caution as rain can change the riding characteristics of the trail.
Check the map and go to Sonoran Desert Mountain Bicyclists website or the Fantasy Island Facebook page for more info.
Sweetwater Preserve 
Locals love this series of loop trails on Tucson's western edge that can be enjoyed by just about any level of rider for its well-maintained singletrack and beautiful scenery. This area can satisfy both beginners who want a bit of a challenge or experienced riders who are looking for a more relaxed day in the saddle. Bordered by Saguaro National Park West these trails provide a perfect way to experience supreme XC desert riding without venturing too far outside of the city.
Click Here for a map of Sweetwater Preserve.
---
Intermediate Trails
50 Year Trail System
Northwest of Tucson near the towns of Oro Valley and Catalina, this area has a wide variety of trails for riders of a more intermediate to advanced level. On segments like "Middlegate", you will find some of Tucson's best singletrack with just enough technical challenges to keep it interesting. And as a major bonus, riding here comes with some of the most picturesque desert scenery in the region. For some really fun, fast lines with steep berms try one of the area's most popular segments, aptly named "The Chutes". This system can be accessed from Golder Ranch Rd. to the north or from Catalina State Park to the south. Note: A park entrance fee of $7 is required if you wish to park and ride in from Catalina State Park. 
Click Here for a map of the 50 Year trail system.
Starr Pass Trail System 
Starr Pass is one of the most popular places to ride in the Tucson area, with a good mix of technical, chunky rock sections and smooth single-track riding. This is undoubtedly one of Tucson's best and boasts plenty of loop segments that can be connected to the Tucson Mountain Park trail system to the north or to the equally fun Robles system to the south. If you happen to be staying at the JW Marriott Starr Pass Resort then access is just outside the door.
Click Here for a map of the Starr Pass main trail.
Pistol Hill
Try this beautiful out-and-back stretch of the Arizona Trail that meanders through the foothills of the Rincon Mountains and through picturesque Colossal Cave Mountain Park on Tucson's eastside. This ride provides rolling cross-country singletrack with just a few techy sections and a big climb near the middle.
Click Here for a map of the Pistol Hill trail.
---
Advanced Trails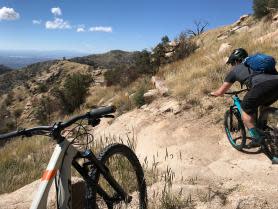 Mt Lemmon 
The crown jewel of Tucson's MTB scene, offering multiple steep, technical trails and the challenge of higher altitudes up to. This wonderland of trails is unlike anything else in Arizona, allowing advanced riders to go from pine trees to saguaros in a matter of hours. In traversing a large portion of Coronado National Forest, riders can experience the full range of diversity that the Tucson landscape has to offer. For an intro to this area and some ideal winter-season riding, try linking up Bug Springs and Molino Basin aka Prison Camp.
Click Here for a map of Mt Lemmon Trails.
NOTE: Mt Lemmon Trails are for advanced riders only and may require a shuttle and/or guide service. Check with our partners Home Grown MTB and visit the Tucson Off-Road Cyclists and Activists (TORCA) website before you go.
Ridgeline trail 
This fun and challenging trail in the Tortolita Mountains treats riders to steep technical climbing with the reward of some incredible views. With this trail serious riders can go all out for an awesome adventure that is easily accessed from the nearby town of Oro Valley.
Click Here for a map of the Ridgeline trail.
Brown Mountain trail 
This is another popular option for more advanced riders but offers a shorter trip, clocking in at just under 5 miles. This trail can be ridden as a loop and is located in the previously mentioned Tucson Mountain Park. Because of the proximity to other trails and local attractions, it is pretty well traveled and may require the occasional yield to hikers. If you are looking for a technical challenge and a wonderful example of desert riding, look no further.
Click Here for a map of the Brown Mountain trail.
Bonus: The Arizona National Scenic Trail
Those in search of a truly hardcore bike-packing odyssey can take on the challenge of The Arizona Trail, an epic 800-mile route that stretches from the Mexico border all the way to Utah (mostly ridden north-to-south). Some of the most beautiful and fun sections of the AZT wind just around the outskirts of Tucson making it easy to access and experience some choice segments even if you don't have the extra vacation days needed to take down the whole thing. Visit the Arizona Trail Association website for more info.
---
*The trails mentioned here can be dangerous! If you are uncertain about your ability to ride a specific trail, check-in with one of the local advocacy groups to get more information or seek out a local guide. Never ride without a helmet and bring plenty of water... it's a desert y'all! Also, please be aware that many of the trails mentioned here are multi-use, so look out for horses and hikers, and no matter where you ride, always remember to be kind and share the trail!
Mountain Bike Resources