Walk, Bike, and Skate your way around Pima County on the Chuck Huckelberry Loop
by Mary Reynolds
Ride your bike past Old West ranches and New West solar panels. Walk beneath mesquite trees and sculptures on your way to a Farmers Market. Ride horseback in sandy riverbeds with mountain views. Stop for coffee or lunch along the way. Do all of this on the 137-mile Chuck Huckelberry Loop that encircles Tucson and connects to Marana and Oro Valley. Voted the Best Recreational Trail in the United States by USA Today, The Loop is a shared-use paved path that lets you explore Tucson from the banks of the Santa Cruz River, Rillito Creek, Pantano Wash, Julian Wash, and Cañada del Oro Wash. Kids will love the fun sculptures at Brandi Fenton Park, along with its splash pad and playground. Other parks with playgrounds include Fort Lowell Park, Juhan Park, Children's Park, Flowing Wells District Park, and its BMX pump track.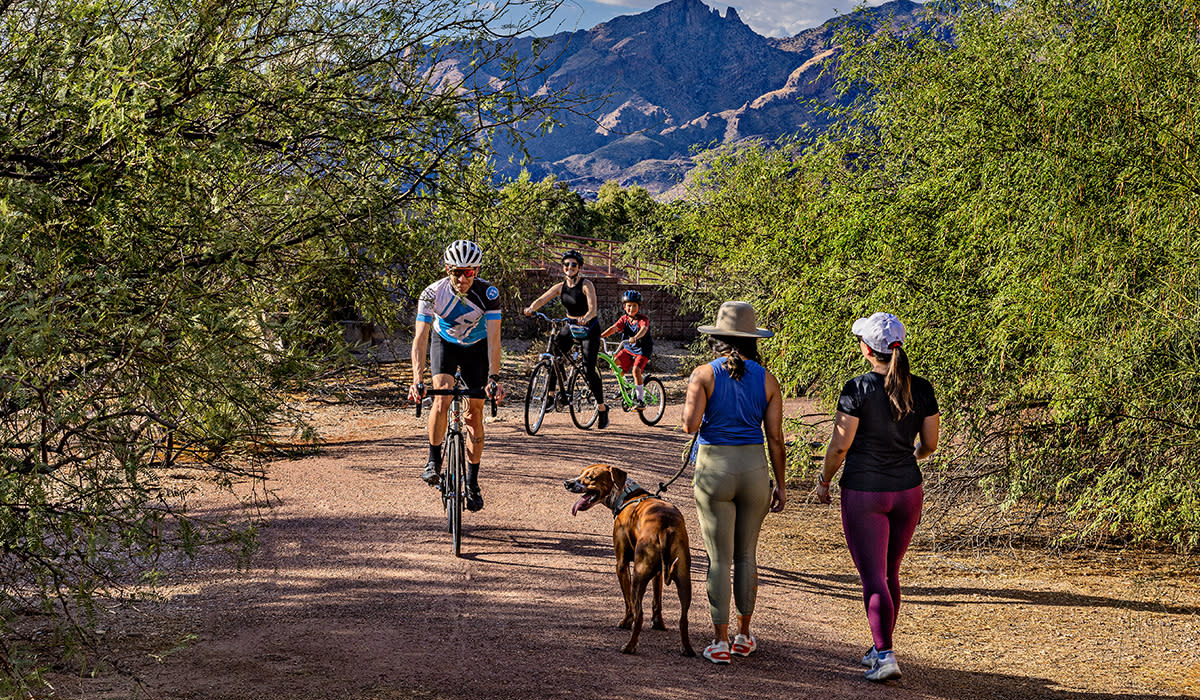 People walking and biking on The Loop
Almost 90% of Tucson metro area residents live within minutes of The Loop, making it the go-to place for walking the dog, pushing a stroller, skating, walking, and recreational bicycling. Many visitors can conveniently walk or bike to The Loop from where they are staying, and trailheads offer parking for those driving to The Loop. Most trailheads have water fountains and restrooms. Other facilities can be found at parks adjacent to The Loop. "My job is to travel the country teaching people how to be running coaches," says Randy Accetta, Director of Coaching Education for the national non-profit Roadrunners Club of America. "It is one of the best, if not the best city running trail in America." With marked distances, and the opportunity to run on paved or soft surfaces, runners have the desert experience with beautiful mountain views in a safe and well-marked environment.
"There's so much space and room to run, but there are so many other people around exercising, I'm part of something bigger."
"I like the feeling that I'm solitary but also part of the community," Accetta says about running on The Loop. "There's so much space and room to run, but there are so many other people around exercising, I'm part of something bigger." Need refreshment? Commercial districts on The Loop offer restaurants, coffee shops, and Farmers' Markets. Loop users along the Cañada del Oro Wash can visit shopping centers where First Avenue crosses the path in the Town of Oro Valley. Along the Rillito Creek, the Rillito Racetrack Farmers Market and St. Philip's Plaza shopping center provide food and drink near Campbell Avenue. Downtown on the Santa Cruz River, Mercado San Agustín and the MSA Annex are less than half a mile from where Congress Street crosses The Loop. Businesses in other locations also welcome Loop users. "Local and visiting cyclists come into our business from The Loop," says Jessie Mance Zugerman, owner of the Tucson Hop Shop, at the Metal Arts Village on Dodge Boulevard. "We knew cyclists would be a huge demographic for our business. Proximity to this major cycling artery was a cornerstone in finding a location for our shop."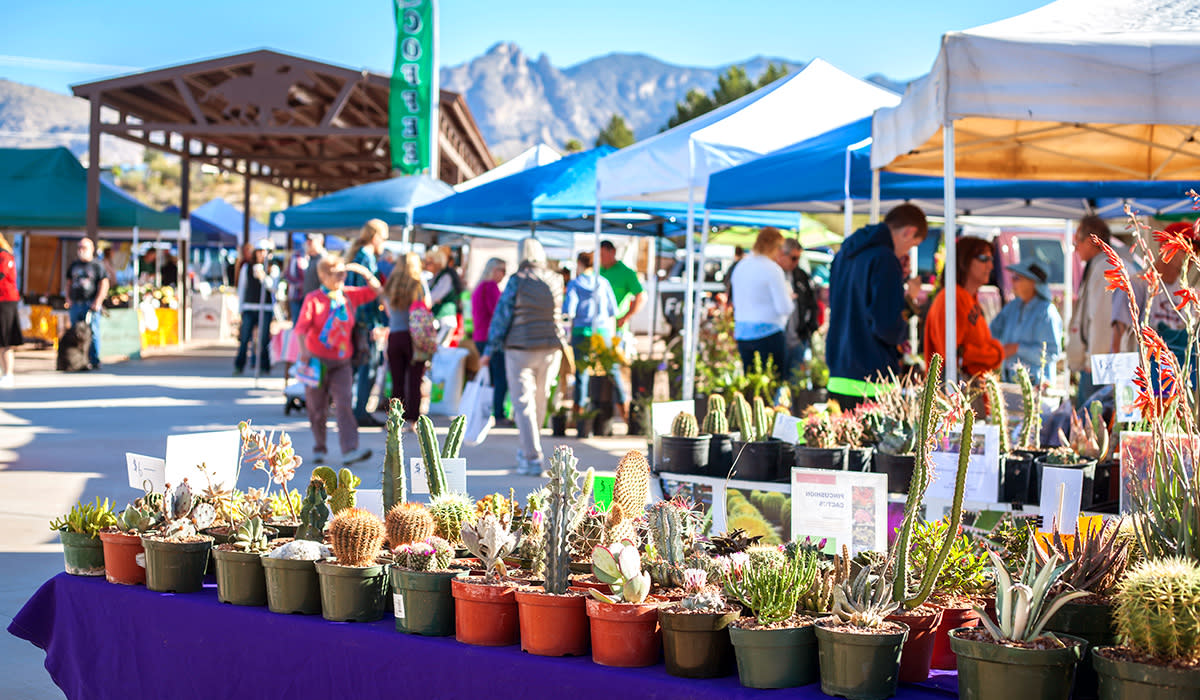 Heirloom Farmers Market At Rillito off the Loop
Find a terrific resource if you're planning to explore The Chuck Huckelberry Loop while in Tucson! You can find everything from detailed maps that reveal where public art projects can be enjoyed along The Loop's 137 miles, locations of historically-significant places, and up-to-date advisories on maintenance projects and adjacent road closures.