Mexican Food
The Best 23 Miles of Mexican Food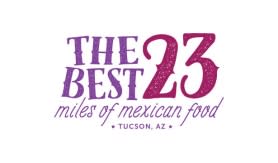 What is The Best 23 Miles of Mexican Food? It's an adventure of incredible food and a wide array of dining options, from fine to funky. It's a line drawn in the sand of the Sonoran desert: you won't find better Mexican food anywhere north of the border. We're happy to try out the competitors, but we stand by the claim. If you love Mexican food and you haven't eaten in Tucson, you haven't tasted the whole story.
But, it's a lot more than that as well. The taco truck parked in an empty lot somewhere or the date-night spot downtown with the luscious moles are both part of Tucson's borderlands culture, where the influence of Mexico can be found everywhere. This isn't something we run from or try to slowly erase. We embrace it, especially when we eat.
The best part? You don't have to think about all that stuff…you can just get a plate of carne asada tacos that are among the best things you've ever eaten. That works too. 
---
Pro-Tip: Start along Tucson's 12th Avenue for an authentic taste of the Best 23 Miles and work your way from there.
Find more food and drink options in the first UNESCO City of Gastronomy in the US
Las categorías son: Tamal Tradicional (Res, puerco, venado, etc.) Tamal Tradicional de Elote Tamal…
The foundation of Tucson's UNESCO City of Gastronomy designation is built on history and the unique… Learn more
Learn more