Tucson Streetcar
An Affordable Ride with Unique Tucson Views
The Tucson Sun Link Streetcar is a fun and modern way to get around several historic entertainment districts in Tucson, Arizona, including Main Gate Square, the University of Arizona, Downtown, Fourth Avenue, and Mercado San Agustín. Various stops along the route are within walking distance of other districts and popular Tucson attractions like the historic Presidio District.  
You can travel in style within walking distance to many of Tucson's most celebrated, well-known restaurants, shops, art galleries, historic neighborhoods, entertainment, and more. 
Over 100,000 Tucsonans work or live within a half-mile of the route, making it an integral part of many downtown and university communities. The 23 stops along the 3.9-mile route showcase engaging public art, lending a touch of Tucson's vibrant culture to your journey.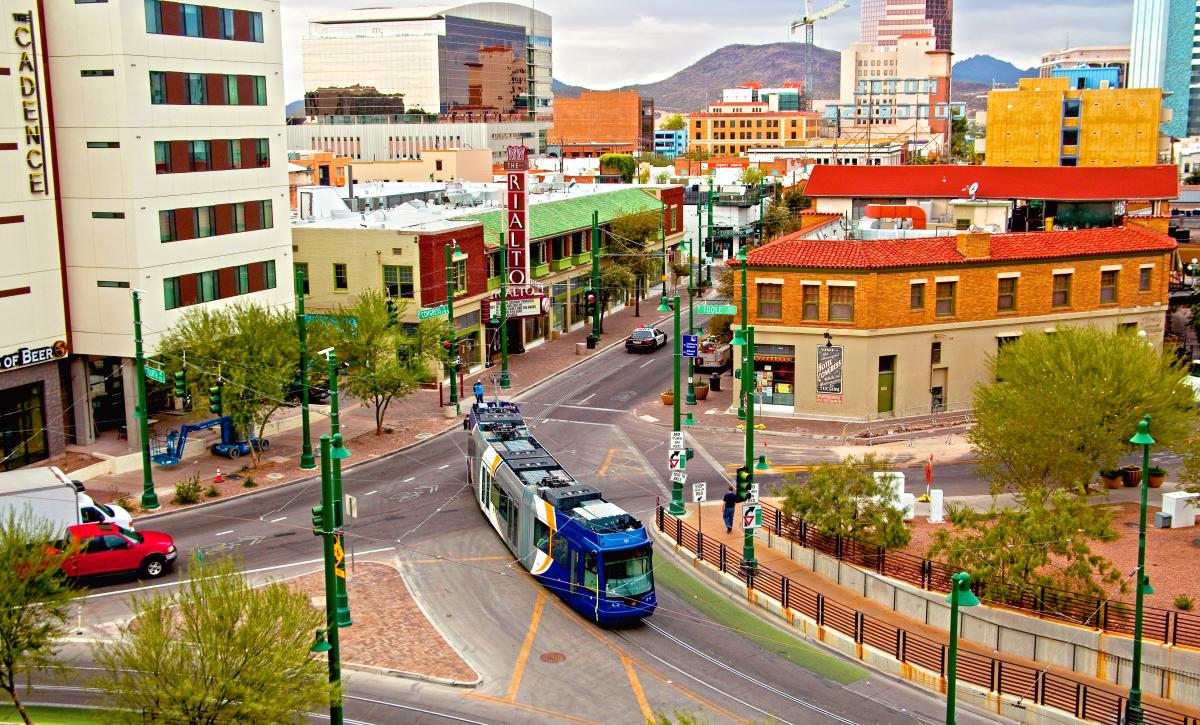 An Inspiring Ride
After two years constructing the route, the Tucson Streetcar inauguration day came in July 2014, making Tucson one of five cities in the country to have a streetcar. Inauguration day was a big deal, with crowd-lined sidewalks, music from the University of Arizona Pep Band, and long lines of locals patiently waiting for their ride on the fashionable, state-of-art trolley.
Part of a fleet of eight, this futuristic, single-line streetcar is double-ended, making it bidirectional. Each streetcar has three sections. For easy accessibility, the center section is at platform height. Both sides of the streetcar have two double-door entrances and an additional passenger door directly behind the operator cab.
Why You Should Use the Tucson Streetcar
Whether you are visiting Tucson for the pleasure of exploring or for business at popular showcase events, the Tucson streetcar is a great option to help you get around town without having to factor in parking. In addition, the streetcar offers a unique view of Tucson while you travel to and from your destination.

Tucson Streetcar
Interactive Map