Tucson Rodeo Parade
What a Ride! 
Returning February 17-25, 2024
A tip of the Stetson to La Fiesta de los Vaqueros®, the Tucson Rodeo & Parade, kicking it since 1925. Tucson Rodeo & Parade: Thrills, Spills & Wild West Entertainment
Buckle up for La Fiesta de los Vaqueros® - Tucson Rodeo & Parade, one of the top 25 pro rodeos in the United States, staged at Tucson Rodeo Grounds in February since 1925.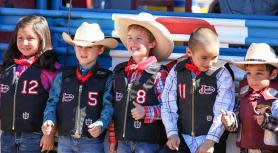 Mutton busters are ready for rodeo action.
The action gets bumpy as champion cowboys and cowgirls test their ranching skills in six performances while the next generation takes center stage in events like RAM Mutton Bustin' and Justin Junior Rodeo Exhibition. Before dawn on Thursday of Rodeo Week, fans start lining the streets. The 2.5-mile stream of horse-drawn coaches, outfitted riders, folk dancers, and marching bands is ranked as the world's longest non-motorized parade. Watching from curbside is free of charge. Tickets for grandstand seating and pre-parade live entertainment are available on TucsonRodeoParade.com.
For an up-close look at horse-drawn vehicles from another era, tour the vintage wagons, carriages, and buggies at Tucson Rodeo Parade Museum, open January-early April. The museum also has life-size dioramas that will transport you back to Tucson's Old West days. Don't miss the pictures by Louise Serpa (1925-2012), a legendary Cowboy Hall-of-Fame photographer who got her start at the Tucson Rodeo. She was the first female photographer to receive her Rodeo Cowboy Association card and enter the rodeo arena to photograph action shots on film. Serpa captured over a half-century of rodeo history and excitement with her images, some of which are displayed at Tucson Rodeo Parade Museum.
After the rodeo dust settles, why not extend your visit with a road trip to nearby sights and attractions? Explore Tucson's Southside District.
A fun day out with family and friends is the top reason folks attend Tucson Rodeo events. Discover recent videos and playlists."
Explore More Tucson Events