Tucson International Mariachi Conference
Lively concerts pay tribute to traditional Mexican rhythms in downtown Tucson!
Returns May 1 - 5, 2024
Tucson International Mariachi Conference: Hear the Most Iconic Sounds in Latin Music!
La Frontera Tucson International Mariachi Conference is planning its return to the Tucson Convention Center Arena area in downtown Tucson.
As fans know, a mariachi band should be seen and heard live to be fully appreciated!  Tucson's mariachi conference includes a music festival with three public concerts that cap a week of rigorous student workshops led by masters of mariachi music and folkloric dance.
On Saturday morning, a traditional mariachi Mass featuring live music and dance is open to all. These performances are big and choreographed: Musicians wearing big sombreros and ornate charro (horseman) suits perform alongside swirling baile folklórico (folk dance) groups wearing flowers and traditional embroidered dresses. Soulful harmonies, bright strings, and bold brass sounds are punctuated at times by a Mexican Grito, a heartfelt cry -- the most iconic sound in Latin music!
You can experience this exuberant symbol of Mexican culture in Tucson, a mariachi hub of the United States, every April at the La Frontera Tucson International Mariachi Conference. Enjoy concerts of vibrant music and dance, and discover why mariachi music is recognized by UNESCO as part of the Intangible Cultural Heritage of Humanity.
Video: Youth group Mariachi Tesoro de Tucson wows the 2014 audience.
History of the Tucson International Mariachi Conference
Mariachi music is a familiar soundtrack in Tucson. The city is considered the birthplace of the youth mariachi group movement, beginning with Los Changuitos Feos (The Ugly Little Monkeys) in 1964 and continuing with public school programs and Tucson International Mariachi Conference workshops. Tucson's first mariachi band, El Mariachi Tucsonense, led the way in the 1950s. Read more about this iconic Tucson festival (with images of beautiful promo posters).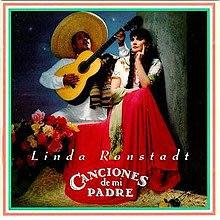 Linda Ronstadt's "Canciones de mi Padre"
A model for other mariachi festivals, the Tucson International Mariachi Conference was founded in 1982 and nurtured by such legends as Mariachi Vargas De Tecalitlán, Mariachi Cobre, the late Lola Beltrán, and Tucson native Linda Ronstadt. Her two Grammy Award-winning albums of classic mariachi songs learned while growing up in Tucson are a tribute to Ronstadt's own Mexican-American roots and expanded the audience for mariachi music.
Explore Tucson's Mexican-American Culture
Interested in more of Tucson's borderland cultural heritage? Take the Best of the Barrio Culinary Tour or visit America's Best Mexican Food. Tour Mission San Xavier del Bac, Presidio San Agustin, and Tubac Presidio State Historic Park. Browse the Raices Taller 222 Art Gallery and the Tucson Museum of Art's Latin American Art collection, or watch an original play at Borderlands Theater.
If you visit in early November, don't miss All Souls Procession weekend, a totally Tucson take on All Soul's Day and Mexico's Day of the Dead. On any Wednesday evening, you can stream mariachi songs as part of the eclectic mix of old and new Latin music played by a real DJ during the Sabor del Barrio program on Tucson's community radio station, KXCI 91.3 FM.