Tucson Festival Of Books
Literacy lovers of all ages celebrate reading, discovery, and creativity at the University of Arizona
Returning March 2024
Tucson Festival of Books: A Springtime Bestseller 
The Tucson Festival of Books arrives in March when the sun is beaming, desert wildflowers are blooming and University of Arizona students are gone bye-bye on spring break. It's Tucson's annual gift to bookworms -- a two-day bestseller for all ages.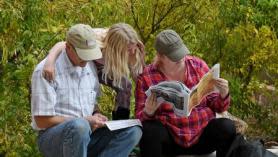 Much of the activity -- book panels and special events where literacy lovers can come together, meet their favorite authors, and discover new bookish companies and resources -- takes place on the pedestrian-friendly, open-air University of Arizona Mall. Festival admission is free, but many of the popular author events require advance tickets (see tucsonfestivalofbooks.org).  
Parking & Public Transportation
Campus parking for the festival is complimentary on surface lots and in Park Avenue and the Highland garage. The Cherry Avenue, 6th Street, Tyndall, and Main Gate garages are available for $5 per vehicle; free entry is granted after 4 p.m. Check out public transportation and other options for getting around.
Campus-Area Attractions
You can enhance your festival visit by exploring the university's museums and galleries, adjacent historic neighborhoods, and the nearby Main Gate Square shopping and dining corridor. For fun and convenience, yellow Tugo bikes can be rented for 30-minute trips while the four-mile Sun Link Streetcar connects campus with the surrounding Historic Fourth Avenue, Congress Street, and Mercado districts.
Founders Award-Winning Authors
Every word counts! Hundreds of authors representing many genres have graced this festival. You can get an idea of the variety and caliber of the participants by checking this list of Festival Founders Award recipients. This award recognizes the exceptional literary achievement of one festival participant who is chosen every year. Past recipients of this coveted award are:
2023 Thomas Perry
2022   Annette Gordon-Reed
2021   Lisa See 
2019   Luis Alberto Urrea 2019
2018   Billy Collins
2017   T.C. Boyle 
2016   J.A. Jance 
2015   Rock Bottom Remainders 
2014   Richard Russo 
2013   R.L. Stine 
Local Information
The local experts at the University of Arizona Visitor Center and the Southern Arizona Heritage and Visitor Center stand ready with information for visitors.
Video: Tucson Festival of Books
930 East Second Street

(520)467-5900
Nestled in the heart of the University of Arizona's campus, our hotel blends modern accommodations with a trailblazing Southwestern spirit. Feel at home in our desert retreat, just steps from Arizona Stadium and downtown Tucson. Prepare to be inspired. In our hotel, little…
880 E. 2nd St.

(520)792-4100
The Marriott Tucson University Park Hotel is located in the heart of Tucson and at the beautiful and historic campus of University of Arizona. Enjoy the convenience for U of A athletic events as well as conferences, meetings, seminars or special events. Our hotel offers a wide…