Spanish colonial history, wineries, birding and much more, just a short drive from Tucson.
Explore the villages of Tubac, Tumacácori, Patagonia, Sonoita, Elgin and Nogales, including southeastern Arizona wine country, just a scenic drive south of metro Tucson.
Tubac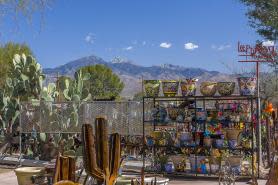 The first European settlement in Arizona and the first Spanish fort in the Santa Cruz Valley, Tubac has evolved into a creative enclave of artist studios, galleries, and festivals. The village is a good place to find authentic Mexican-made folk art and other merchandise. The town's history is preserved at Tubac Presidio State Historic Park where visitors can walk among ancient ruins, see an underground archaeology display and tour an 1885 schoolhouse. Adjacent to the park is the trailhead of the 4.5-mile section of the Juan Bautista de Anza National Historic Trail that parallels and crosses the Santa Cruz River (now, mostly a dry riverbed) from Tumacacori to Tubac—an easy hike in a top spot for bird watching and picnicking. Local dining options include Elvira's Restaurant, serving Mexico City-style food since 1927, and the Stables Ranch Grille at Tubac Golf Resort & Spa, featuring leather saddles for seats in the bar. Soto's PK Outpost was renowned in Nogales, AZ before moving to Tubac where it still serves home-style Sonoran Mexican food and classic margaritas with live music by mariachi bands.
Tumacácori National Historical Park
Just south of Tubac, the abandoned ruins of three Spanish colonial missions are protected at Tumacácori National Historical Park. Visitors can walk through an elaborate church built in 1822, an ancient graveyard, and an heirloom orchard that replicates fruit trees planted by missionaries and colonists over 200 years ago. Like Tubac, Tumacacori was on the route of the 1775-1776 Juan Bautista de Anza Expedition; the Anza trailhead connecting the two sites is located near the park's visitor center. Local eateries include Wisdom's Café for Mexico City-style food since 1944 and Santa Cruz Chile Factory for cactus candy and jalapeno ice cream. Avalon Organic Gardens & Eco-Village offers tours and seminars on sustainability practices.
Patagonia
An internationally renowned bird-watching destination, Patagonia is near The Nature Conservancy's Patagonia-Sonoita Creek Preserve. This flourishing cottonwood-willow streamside forest supports myriad plants and wildlife along Sonoita Creek, including a diverse avian population that peaks in spring and summer. Tucson Audubon's Paton Center for Hummingbirds is one of the best places to observe colorful native and migratory "hummers" in this region. Patagonia Lake State Park has a variety of recreational activities (water skiing, fishing, camping, picnicking and hiking), but it gets crowded on weekends and holidays. Before visiting these sites, call or check websites to confirm days, hours, fees and activities. A stay at Circle Z Guest Ranch offers a true cowboy horseback-riding experience on thousands of acres of historic ranching land. Despite its kitschy name, the Velvet Elvis Pizza Company is known for its wholesome menu.
Sonoita-Elgin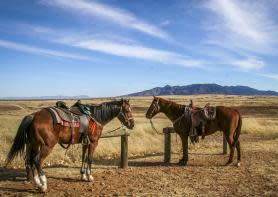 A good place to see southeastern Arizona's famed sky islands—mountain forests and hilly grasslands rising from the desert-like islands from the sea. The many possibilities for hiking, mountain biking, and horseback riding include a stretch of the Santa Rita segment (Passage 5) of the Arizona Trail that can be accessed at Kentucky Camp, a ghost town and old mining camp listed on the National Register of Historic Places and open to visitors. The historic Empire Ranch, a working cattle ranch founded in the 1870s (and a location for dozens of movies, including the original "3:10 to Yuma," "Duel in the Sun," and "Oklahoma") offers tours, trail rides, and heritage events. The ranch headquarters sits at the heart of the 42,000-acre Las Cienegas National Conservation Area, which includes 120 square miles of grassland and riparian woodland featuring several marshes (cienegas) that are ideal for bird watching. Get some grub at The Steak Out Restaurant & Saloon, and shop at Many Horses Trading Company or Steve Getzwiller's Nizhoni Ranch Gallery.
"TIP: Take the 52.5-mile Patagonia-Sonoita Scenic Road along Arizona State Routes 82 and 83. Traversing the riparian basin of the Santa Cruz River, this scenic road weaves its way between the Santa Rita and Patagonia Mountains and through the grasslands and rolling hills."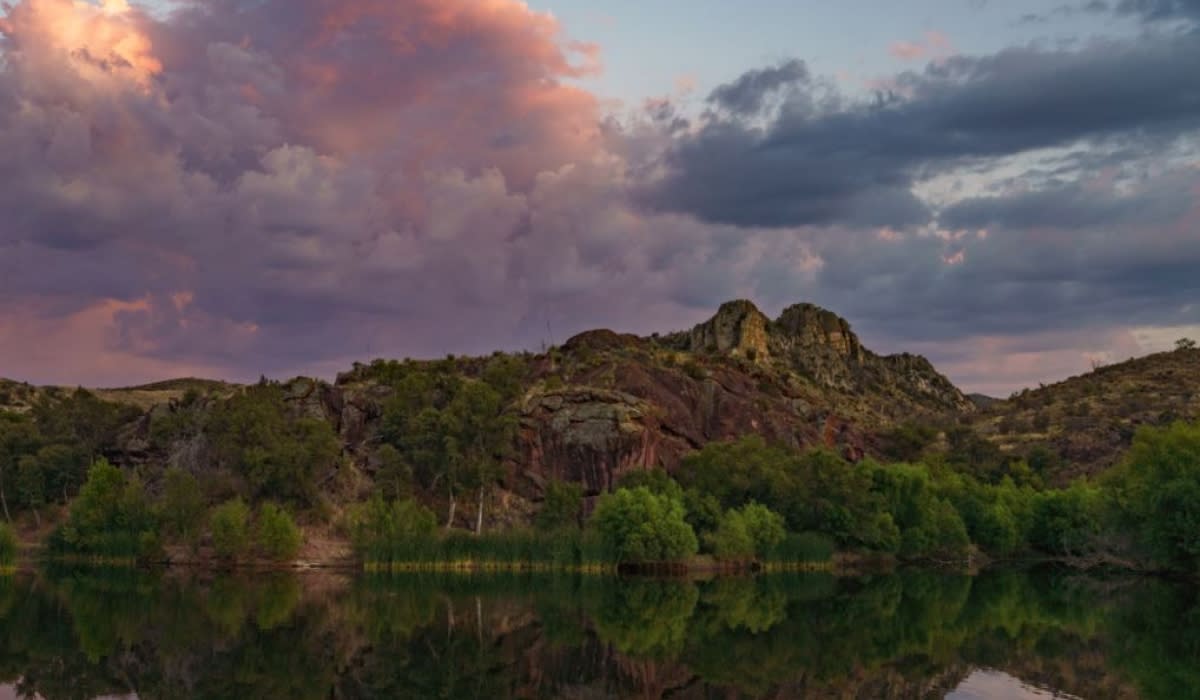 Peña Blanca Lake
 
Nogales
Nogales, Arizona is the largest border city in Arizona and the international entry point into Nogales, Mexico. The history of this borderland region is chronicled at the Primeria Alta Historical Society Museum. The Ranchers' Heritage Center in Nogales's historic courthouse has exhibits about the history of ranching in this region. A medium-sized body of water in the Pajarito Mountain foothills, Peña Blanca Lake in Arizona is a popular recreation spot for visitors from both sides of the border (it gets crowded during peak summer season). Nearby, the Circle Z Ranch offers horseback riding vacations. One of the finest culinary experiences in Mexico is at La Roca Restaurant & Bar, located in the 1890s hacienda Casa Margot, carved into the northwest-facing cliffs of downtown Nogales, Sonora, a quick stroll from the international border.
Southeastern Arizona Wine Country
Arizona's answer to Napa Valley spreads east from the Santa Rita Mountains, about 45 minutes south of Tucson, across southeastern Arizona reaching elevations 2,000 feet higher than those of the city itself. Southeastern Arizona's two award-winning wine-growing areas are centered on the villages of Sonoita-Elgin in Santa Cruz County and the town of Willcox in Cochise County. They are roughly an hour apart.