Somewhere Between Mountain And Road Biking Lies The Of-The-Moment Thrills Of Gravel Riding
By Ali Knutson
Fun fact: about a third of America's roads are unpaved, some a mix of dirt, rocks, and earth. When the bicycle was invented in the 19th century, the roads weren't as manicured as those we traverse today. So…is gravel riding the actual original form of bike riding? In the '80s and '90s, mountain bikes covered most of the space other than road bikes, but as the years went by, those bikes got more specialized and gravel bikes came into prominence. Gravel riding lets riders get out of the city, but not too far, experiencing some adventure on two wheels and then making it back in time for happy hour.
To find the gravel, you need to get a little out of town, with plenty of options within an hour or two of Tucson. Head to Patagonia, home of the Gravel House, hosted by Cyclist Menu, a retreat for gravel riders. The Patagonia 30 is an easier route for beginners with a 1,700-foot gain that leads through the Harshaw Creek wooded area. If you're a more advanced rider, the Spirit World 100 course with more than 7,000 feet of elevation gain climbs Montezuma Pass into Coronado National Forest with an amazing view across the Mexican border.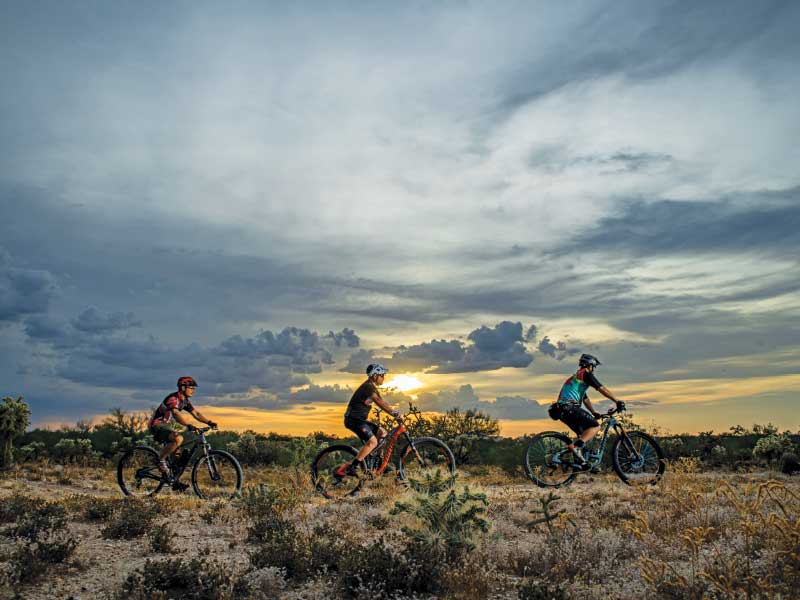 For a real adventure, head out to the Spider Tom ride, which crosses over into parts of the Canelo Hills section of the Arizona Trail. Mixing single and double-track riding, it's a remote ride with rocky and rough sections. The Tucson area's most notable ride might be the trek up Mt. Lemmon's control road on the "backside" of the mountain – a massive climb of 4,400 feet in 13 miles and an accompanying descent that is one of the longest and most scenic in the West.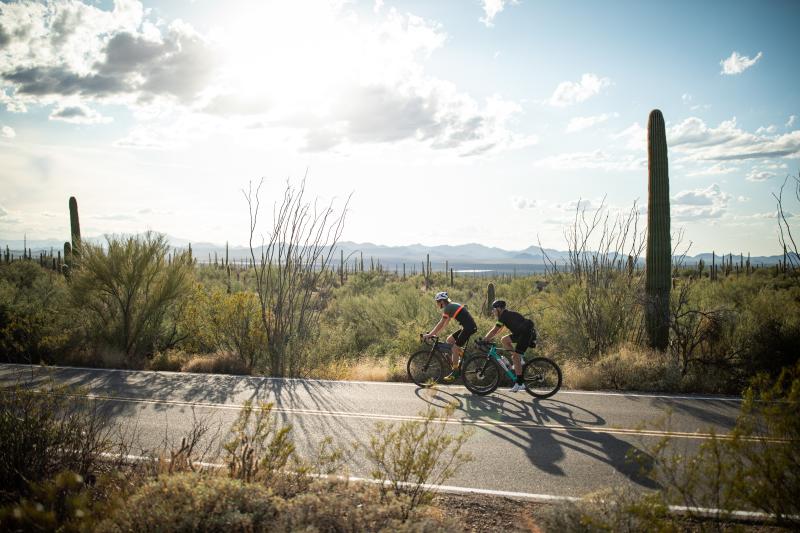 Keep in mind that supplies are key to these rides. A bike computer can be helpful for times when cell phone service is choppy or nonexistent. Hydration vests and water bottles are a must as many local rides don't have water available. Snacks are a good idea in any context, and gravel riding is no exception. Plus, you'll need the basics – tools and a simple repair kit will come in handy if your bike takes a hit, and tube-less tires are a game-changer in our very pokey desert. Don't forget to take the weather into account, which can get as hot as you'd expect or cooler than you might imagine. There's also dust involved, so get yourself a stylish bandana.
Most of all, have fun and make some two-wheel memories out in the Sonoran Desert.
Some local shops that can help you on your gravel journey:
Transit Cycles
267 S Avenida del Convento, Unit 10
(520) 396-4525
transitcycles.com
Fair Wheel Bikes
1110 E Sixth St
(520) 884-9018
fairwheelbikes.com
Campfire Cycling 
15 E Toole Ave 
(800) 717-2596
campfirecycling.com