Pro soccer warms up in Tucson, competes in the Visit Tucson Sun Cup
Spring (dates TBA)
Soccer Spends Summer at Kino North Stadium
All the young dudes return to Tucson for summer soccer, following February's MLS matches at the Visit Tucson Sun Cup. From March to September, catch local USL League One club FC Tucson in more than a dozen home games played after the sun goes down at Kino North Stadium.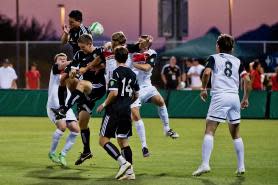 Pro Soccer Warms Up at Visit Tucson Sun Cup — MLS Winter Training & Tournament Returns Spring.

Follow the sun to Tucson for MLS Preseason -- that's Major League Soccer spring training -- this March at Kino Sports Complex. World-class soccer players take to the fields for an all-ages show of spectacular preseason action.
The grand finale is our multi-day Visit Tucson Sun Cup tournament. For schedules and more information visit https://www.fctucson.com/2021suncup Due to health and safety regulations, media and limited fan attendance are soon to be determined. To stay up to date on all the latest Visit Tucson Sun Cup news, download the FC Tucson app
Between matches is always a great time to explore Tucson attractions, restaurants, spas, and shops. Maybe rent bikes and cruise car-free on The Loop multi-use trail or jump in the car and explore Tucson's Southside District. And don't leave town before sampling America's Best Mexican Food in these Tucson-style comfort restaurants.
Planning a soccer weekend in Tucson? We can help you find a hidden gem inn, retro hotel, or pampering resort. Check out Visit Tucson accommodations partners for more information.