Heading southeast from Tucson, a new world of caves, artists' communities, the Old West and more opens up.
Set among the scenic Sky Island mountains and desert riparian preserves of southeastern Arizona, Cochise County is a land of authentic Old West legends and endless outdoor adventures. Highlights include the cities of Benson, Bisbee, Douglas, Dragoon, Sierra Vista, Tombstone, and Willcox.
Benson
The beautiful San Pedro River runs through picturesque Benson, creating a haven for bird-watchers and nature-lovers. Founded in 1880 prior to Arizona's mining boom, Benson developed as a stopping point for the Butterfield Overland Stage mail delivery route and later served as a southern Arizona hub for the transcontinental Southern Pacific Railroad. The Benson Historic Walking Tour is a great way to learn about the town's storied history. Today, Benson is best-known as the gateway to Kartchner Caverns State Park®, a magnificent underground living cave with strange and colorful mineral formations that offers guided tours by reservation. Its Discovery Center has interpretive exhibits and hiking trails, a hummingbird garden, campsites and picnic grounds. Try the Bat Cave Café for a quick bite. South of Benson, next to the San Pedro Riparian National Conservation Area, the small town of St. David is home to Holy Trinity Monastery, favored by naturalists for its shaded garden-bird-sanctuary that includes a 1.3-mile-long trail around placid ponds.
Who knew?: The San Pedro River is one of only two major rivers that flow north out of Mexico into the United States and is one of the last large undammed rivers in the Southwest. Increased development in the Benson area is taking a toll on this natural wonder. If you visit, consider making a donation to The Nature Conservancy to help support conservation efforts here.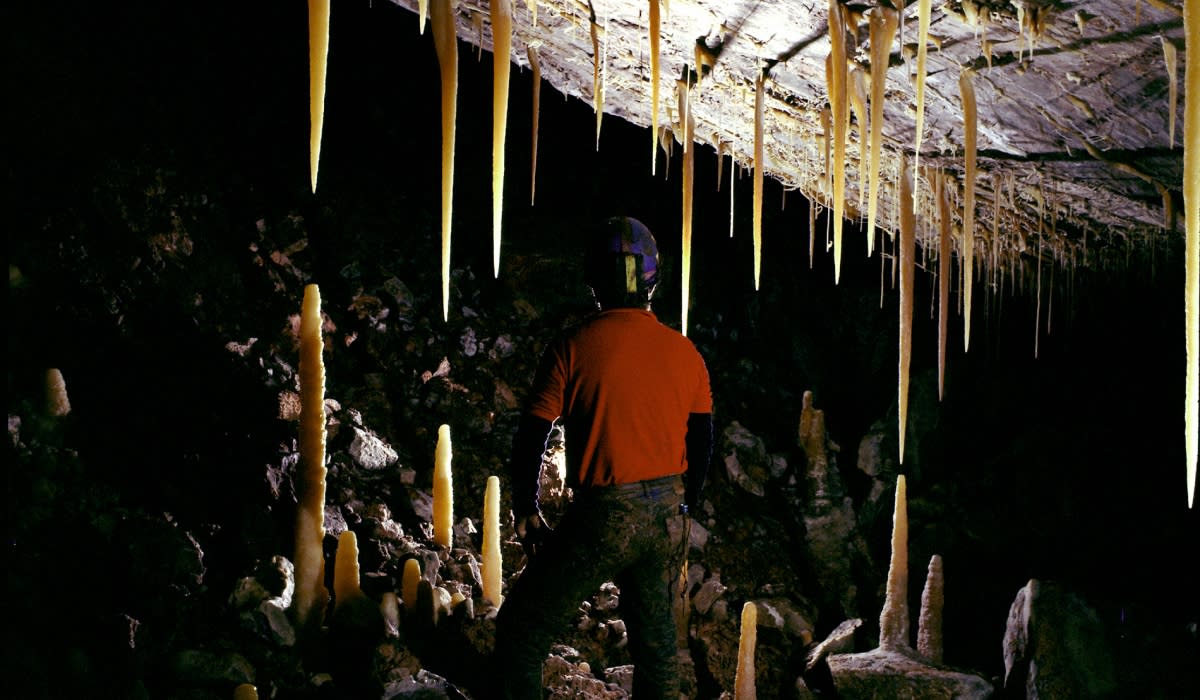 Kartchner Caverns State Park
 
Bisbee
In the mile-high town of Bisbee, once the largest city between St. Louis and San Francisco, the charming Copper Queen Hotel, opened in 1902, is considered the oldest continuously operating hotel in Arizona. The historic Queen Mine offers tours 1,500 feet underground where copper miners once toiled. The Bisbee Mining & Historical Museum, America's first rural Smithsonian Institution affiliate, outlines the area's rich mining history (this is where real Bisbee turquoise is found). The Bisbee Visitors Center has walking tour maps of Old Bisbee's Main Street and notorious Brewery Gulch. In Old Bisbee, dine on locally sourced, regionally influenced food at Cafe Roka, or sample award-winning suds at Old Bisbee Brewing Company. Today, Bisbee embraces its quirky culture and is thriving as an artsy destination with funky festivals and inhabited by artists, antique shops, restaurants, hotels and – according to many residents – ghosts.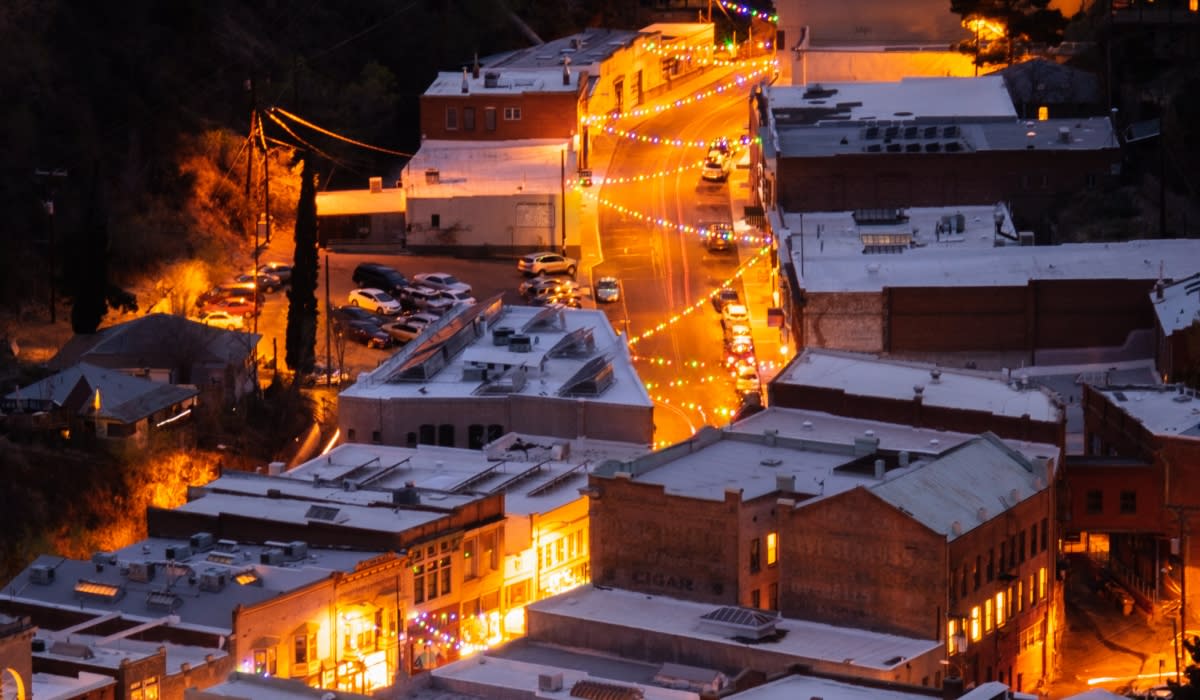 Douglas
Located at the U.S.-Mexico border, Douglas is an off-the-beaten-path Old West mining and ranching town distinguished for its many buildings listed on the National Register of Historic Places buildings, which make excellent photography subjects. The very remote and biologically rich San Bernardino National Wildlife Refuge is open during daylight hours on designated days for wildlife-related activities. Adjacent to the refuge, San Bernardino Ranch is home to the Slaughter Ranch Museum, a meticulously restored, turn-of-the-century adobe ranch house that offers a glimpse of how upscale ranching used to be. The Gadsden Hotel, designed by famed architect Henry Trost and opened in 1907, exudes Old World grandeur with its vintage Tiffany & Company stained-glass windows, grand marble staircase, soaring Italian marble columns and original art. The hotel also is known for its paranormal activity, especially the infamous room 333.
Dragoon
Located between Benson and Willcox in Texas Canyon, the Amerind Museum houses one of the finest private collections of Native American art and artifacts in the country. Visitors can learn about Southwestern indigenous culture from native peoples at special programs. In a craggy section of the Dragoon Mountains, rock climbers favor Cochise's Stronghold, a campground featuring a maze of granite boulders and rugged canyons. The Stronghold was the winter home of the Chiricahua Apache Native American tribe and the hideout of fabled Chief Cochise, who is said to be buried in a hidden crevice somewhere here. In the community of Dragoon, Triangle T Ranch offers horseback riding, hiking, jeep tours and old-fashioned campfires. In nearby Pearce, Cochise Stronghold Bed & Breakfast is a peaceful mountain retreat (with a yurt among its guestrooms), and Sunglow Ranch touts truly dark skies for stargazing, among its visitor activities.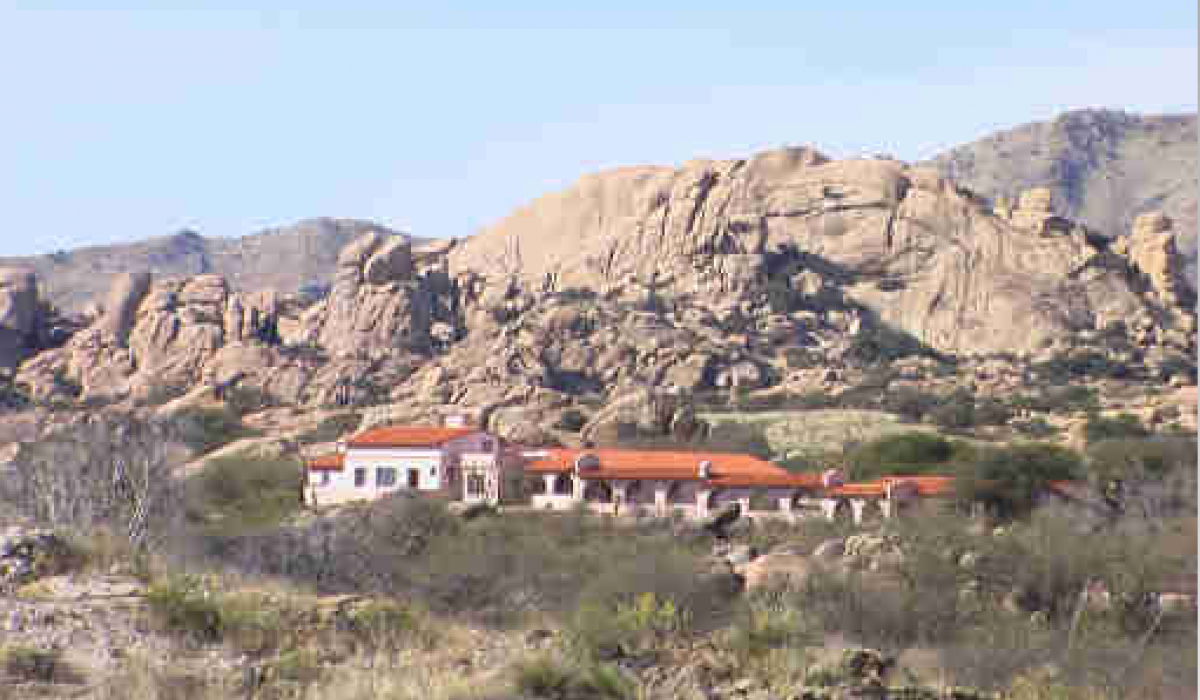 Amerind Foundation & Museum
 
Sierra Vista
Bird-watching is extremely popular in the 36-mile-long San Pedro Riparian Conservation Area, a rare desert riparian ecosystem on either side of the San Pedro River, which supports more than 400 avian species. A 1930's-era converted ranch, The San Pedro House, serves as a visitor center and bookstore here. The Nature Conservancy's 380-acre Ramsey Canyon Preserve protects streamside habitat featuring beautiful Arizona sycamore trees. Hummingbirds migrate seasonally, along with more than 150 other bird species, to this peaceful oasis. The best months for birding here are March-September; hummingbird migration peaks during April and August. Parking is limited; call ahead for information. In nearby Hereford, at the Arizona Folklore Preserve, local historians collect and preserve Arizona folklore, music poetry, legends, and tales. At Fort Huachuca, one of the oldest military outposts in the American West, built in 1877, museums and a statue pay tribute to the contributions of 19th-century African American troops, the Buffalo Soldiers. 
Tombstone
The City of Tombstone is designated as a National Historic Landmark District for being "one of the best-preserved specimens of the rugged frontier of the 1870s and 1880s." More than 130 years after its founding as a silver mining camp, "the town too tough to die" is alive with daily re-enactments of the shootout at the O.K. Corral® and other live action and living history presentations at Helldorado Amphitheater and Six Gun City. There are tombstones with unusual (and hilarious) epitaphs to be photographed at legendary Boothill Graveyard. Old West history is displayed at Tombstone Courthouse State Park, at Tombstone's Historama, and at the Rose Tree Museum. Stagecoach rides and real-deal attractions like Crystal Palace Saloon, Big Nose Kate's Saloon and Bird Cage Theatre round out the campy fun. Visitors are invited to dress up in period costume for regular parades and special events.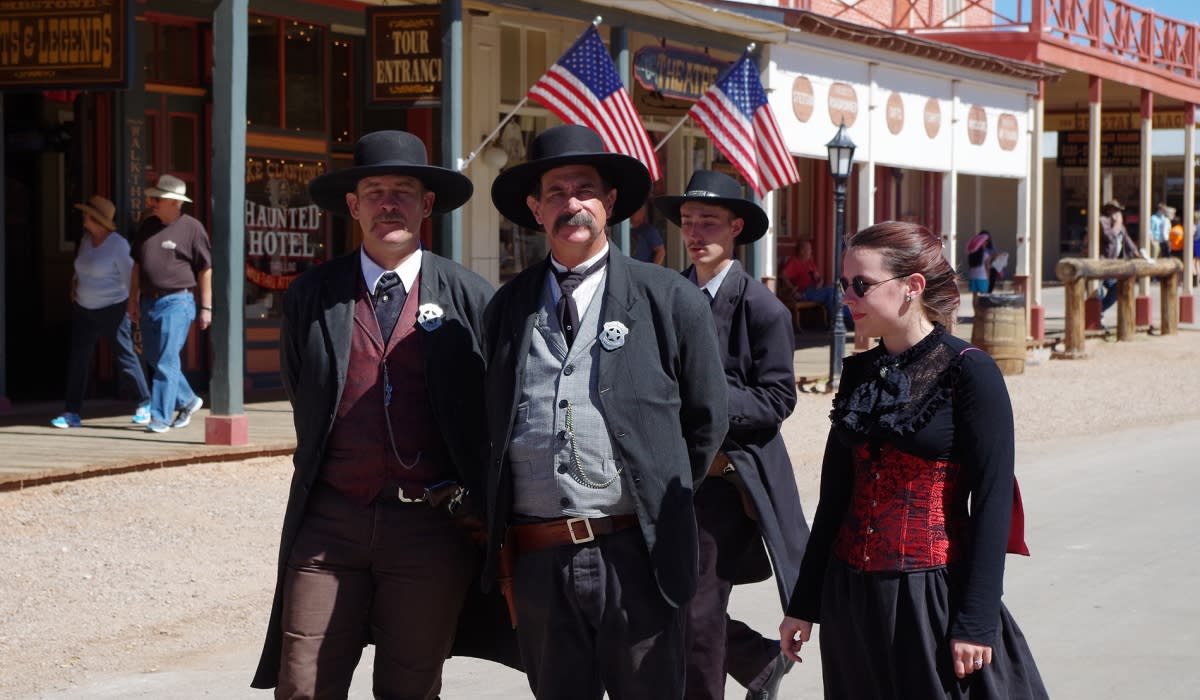 Willcox
Located in the Sulphur Springs Valley, Willcox is a fertile agricultural area with pick-your-own farms and orchards like those at Apple Annie's. This up-and-coming wine grape-growing region with a cluster of outstanding vineyards and wineries making up a wine trail. Every winter, the town celebrates the huge populations of Sandhill cranes stopping over at Willcox Playa with the Wings over Willcox birding and nature festival. The Rex Allen Museum honors the life and career of a 1950s Western film and singing legend known as the "Arizona Cowboy," in his hometown. The ancestral home of the Chiricahua Apache Native American tribe, in the Chiricahua Mountains, is a sky island called "a wonderland of rocks." Access Chiricahua National Monument state park here and explore its 8-mile paved scenic drive and 17-miles of day-use hiking trails past volcanic rock spires called "hoodoos." Call for information about tours at the Faraway Ranch Historic District in Bonita Canyon. Exhibits at the Chiricahua Regional Museum focus on the Apache Tribe and area agriculture and ranching.