One-of-a-kind? Check. Artisanal curio? Absolutely. Whether you're looking for quirky specialty or handspun local, you'll score lovely finds in Tucson. It often takes a little digging to unearth cool shopping experiences, so here's a hit list of where to go in our city to fill your shopping bag with thoughtful gifts, offbeat souvenirs, authentic crafts, and rare treasures.
The Lost Barrio Shops
There's a treasure hunt feel that comes with combing through this hip enclave of smart import shops. The Lost Barrio Shops (228 S. Park Ave. 85719) sells amazing accessories and furnishings sourced from around the world. Its quaint shops are full of great gift fodder: some stocked with quirky Mexicana, others a bazaar of Mexican Colonial furnishings, statement pieces from India, architectural moldings, and accessories including folk art, lighting fixtures, punched-tin decorative pieces, hand-painted tiles, and pottery. Whatever your fancy, this collective of artisanal treats offers functional pieces and just-got-to-have-it charm. Here's a tip: check Facebook for special sale hours.
Mac's Indian Jewelry
Many may claim knowledge about American Indian jewelry, but the McPherson family excels at showcasing exquisite traditional pieces that enchant the most passionate collectors. Customers are surrounded by stunning collections of both vintage and contemporary jewelry made by tribes in the region in this mainstay of the Tucson jewelry scene. Try on anything from dramatic squash blossom necklaces and turquoise silver cuffs, to beautifully detailed buckles and bolo ties. Mac's Indian Jewelry (2400 E. Grant Rd. 85719) also has helpful staff to provide information and give non-pressured VIP treatment. An extensive collection of kachinas, pottery, fetishes, baskets, and other decorative Southwestern items line the store, and all lovingly reflect the native world surrounding Tucson.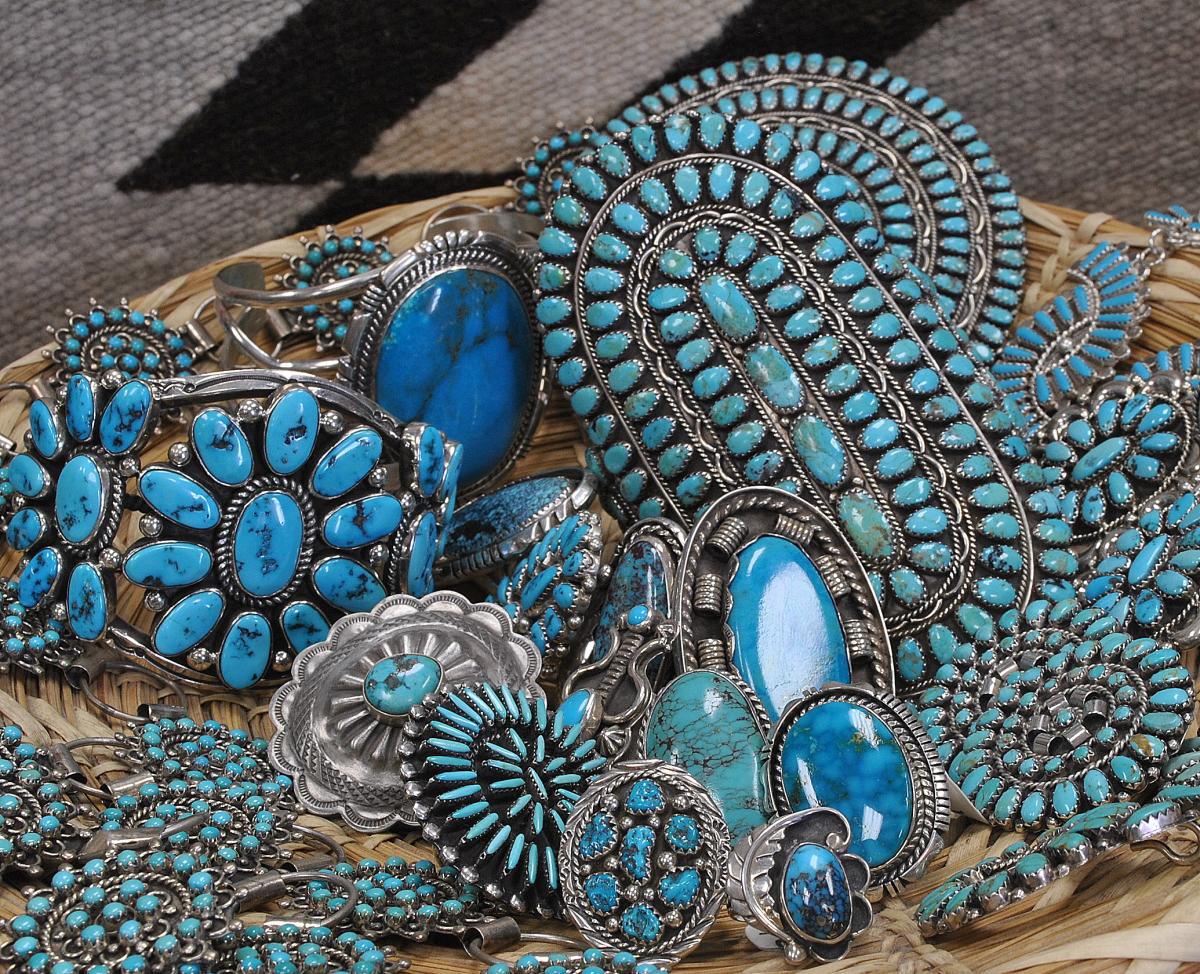 Madaras Gallery
Enter the doorway to this exceptional gallery, and you'll sense southwestern charm mixed with contemporary art. Don't mistake this for anything routine—The Diana Madaras Gallery (3035 N. Swan Rd. 85712) and Gift Shop is world-class and a renowned shopping experience that lures customers globally with its exceptional collection of quintessential Tucson art created by its namesake, Diana Madaras. The remarkable Madaras watercolors and acrylics are meticulous works, with brilliantly intense swaths of colors that feature a mix of the Southwest's natural elements. You'll also find many other artists and art options at this beautifully curated gallery. It's not hard to tell that each item is lovingly displayed and resonates with the spirit of the Southwest.
Mercado San Agustín
If you have not shopped at the eclectic, utilitarian, and just plain awesome Mercado San Agustín (100 S. Avenida del Convento 85745), you should. You'll find a hip showcase of local and international talent in a re-created historic market that's full of shopping opportunities. In one stop, you can nibble on Mexican pastries, slurp a snow cone, and browse interesting shops and eateries. Explore MAST first, to see the keen eye the shop owners have for stylish home and wardrobe picks and essentials. A mod sampler from this mold-breaking store might include a locally forged, iron bottle opener, a hand-painted scarf, small-scale botanicals, and sublime embroidered and beaded clutches. Each piece is unique and influenced by trends in contemporary art. These are above-the-ordinary items, many locally sourced: MAST is perfection without pretension.

Why I Love Where I Live 
At the Mercado San Agustin Annex, Why I Love Where I Live (267 S Avenida Del Convento, Building 2, 85745) is the name of a shop that doubles at the philosophy of its owners. With a mission to encourage others to love where they live and engage in their community with a sense of pride and ownership, Why I Love Where I Live shares its story, celebrates good local things, sells merchandise to inspire and encourage others, and hosts community events. The shop is stocked with Tucson-branded merch, especially many saguaro-decorated items, and other locally created inspirational, place-based products.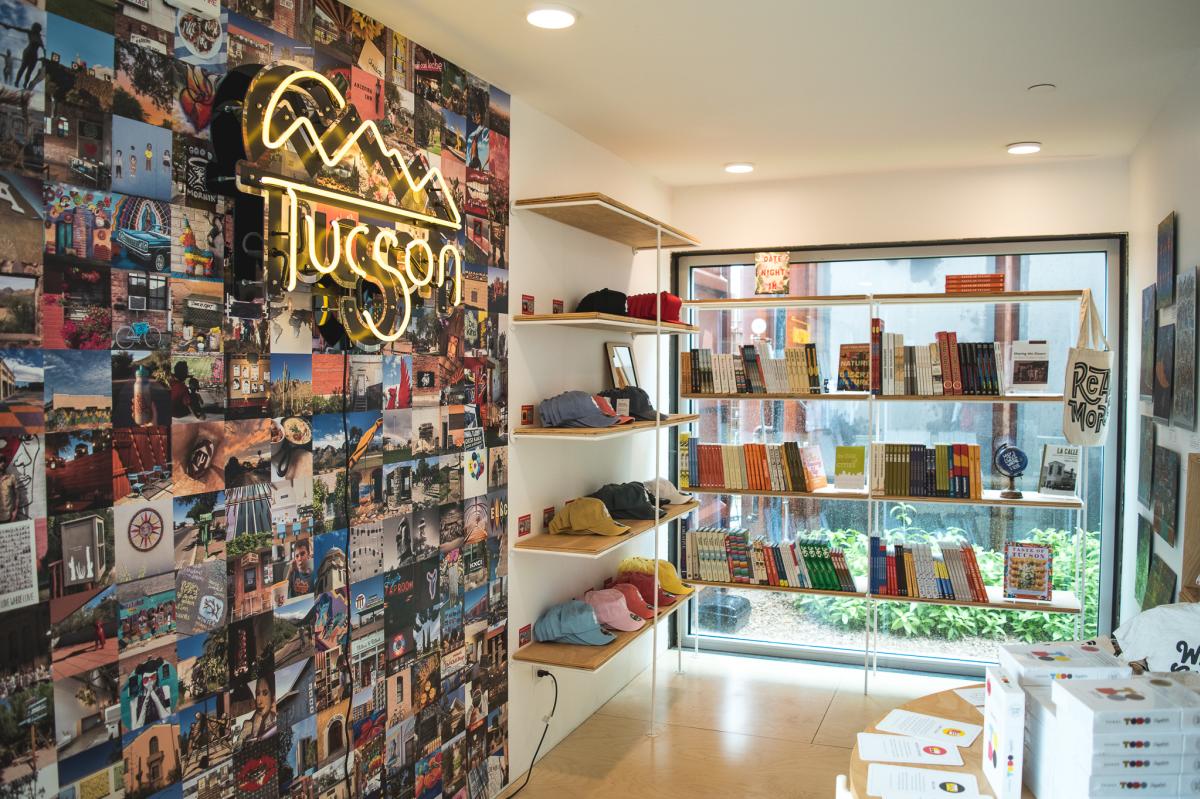 Native Seeds/SEARCH
There's no shortage of Tucson's diverse riches in plants and culture, and you can purchase creatively adaptive pieces of these riches from Native Seeds/SEARCH (3061 N. Campbell Ave. 85719), Create rustic gift baskets from treasures you'll find at this interesting destination, which sources exemplary native arts, seeds, books and plants. Check out the tins of locally made molé and pancake mixes, jars of honey and traditional salsas, and the wonderful selection of local dried beans and chilies. Artisan crafts by natives of the region are another shop hallmark, and you can purchase music, pottery, textiles, and beadwork.
Old Town Artisans
The local and fair trade focus in the quaint shops surrounding a tranquil, Spanish-styled courtyard and restaurant will make you smile. Here, you'll find fine tailoring and baskets made by refugee artisans. You won't be disappointed by the handcrafted selections, from a colorful Dia de los Muertos statue in Tolteca Tlacuilo, to cowgirl-inspired t-shirts at Art House Centro. There's a great mix of compelling specialties in Old Town Artisans (201 N. Court Ave. 85701), where, after shopping, you can sip horchata or enjoy delicious Southwestern fare from the restaurant, La Cocina, in the inviting garden setting. Old Town, situated on the site of El Presidio San Agustin del Tucson, remains on Tucson's cutting edge and is chock full of treasures year-round.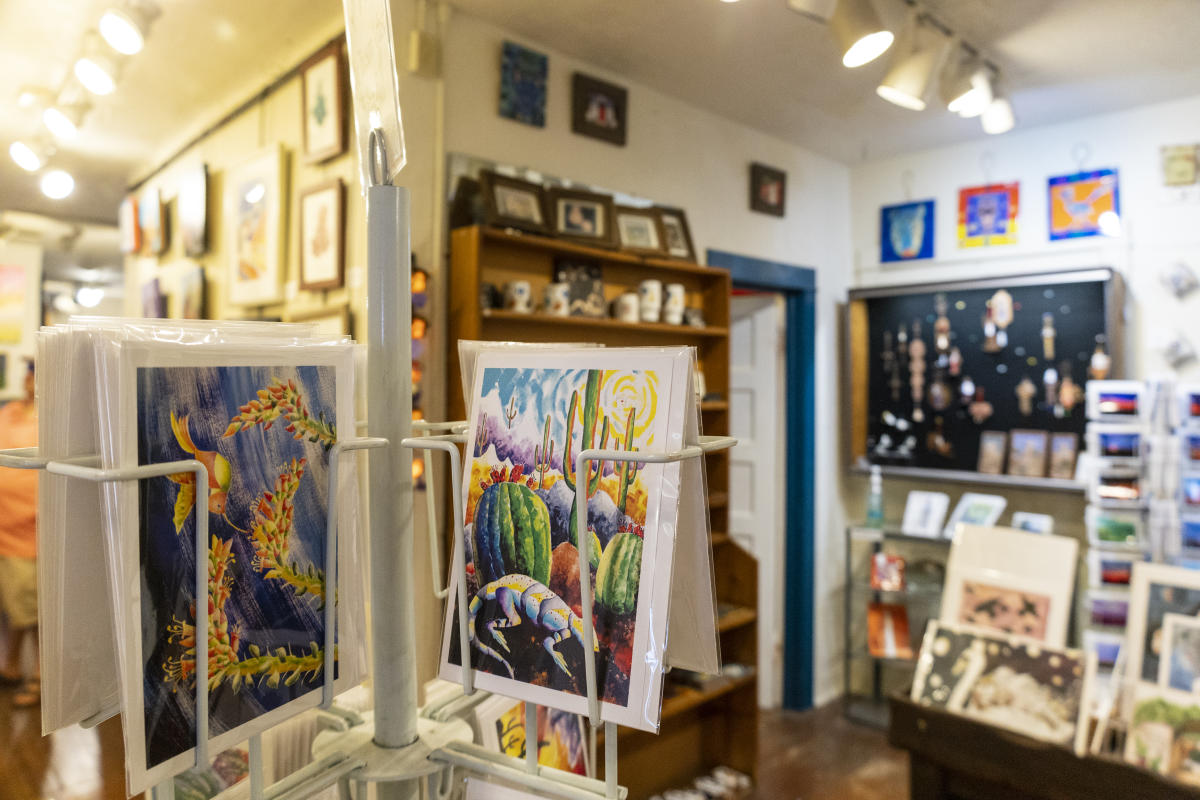 Pop-Cycle
This eclectic shop is on everyone's go-to list for fun and whimsical items from local designers. Bright artwork adorns every wall, including magnets, fake taxidermy animal heads, and street signs. Weave through clothing racks filled with vintage items, such as soft cotton skirts in delicate patterns that contrast (and complement) the button-down cowboy shirts, often embellished with leather, the next rack over. The hippy-chic draw of this shop can't be beaten. You'll always find the perfect gift at Pop-Cycle (422 N. 4th Ave. 85705), whether it's a glittered frame, upcycled bottle cap jewelry, or a succulent planted in a dinosaur toy. A favorite baby shower gift: onesies with a cartoon javelina.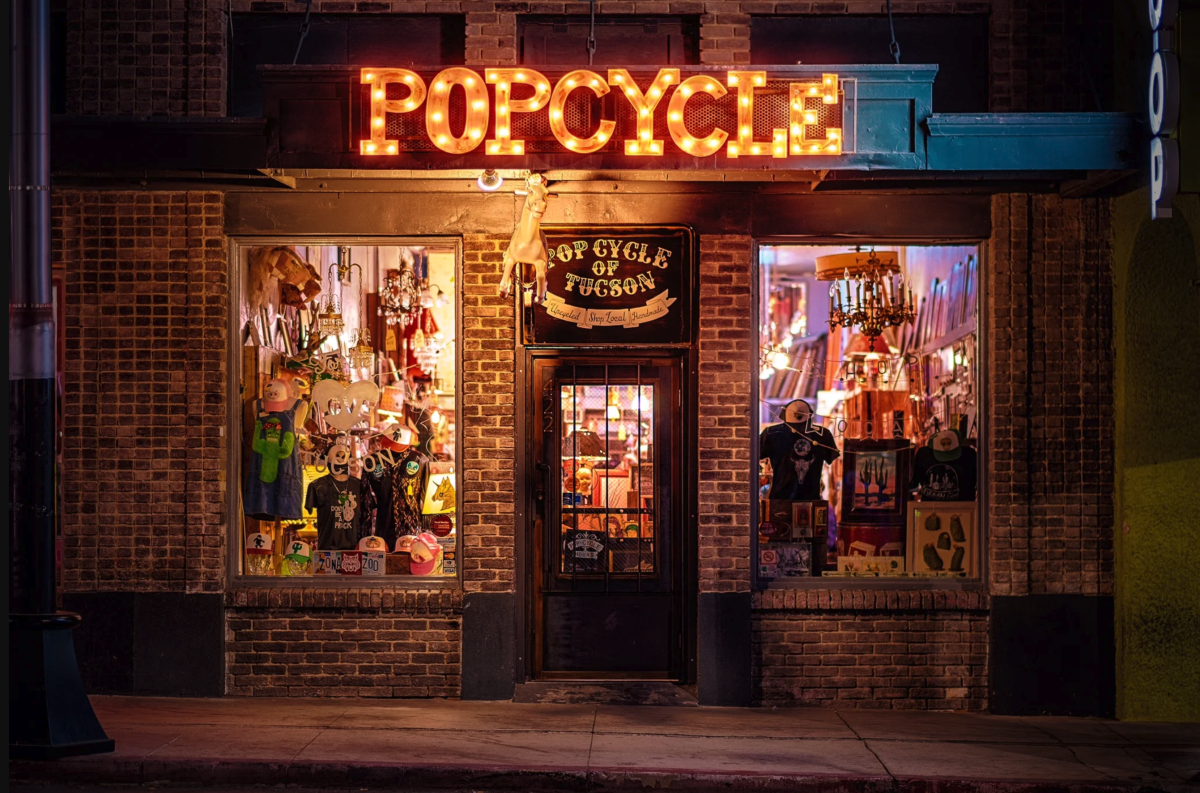 Tohono Chul Gift Shops
For shopping with a twist of local nature, arts, and culture, nothing tops the Tohono Chul (7366 N. Paseo del Norte 85704) experience, where three emporiums offer diverse options in an award-winning complex. The gift shop displays an exceptional collection of Southwest-inspired books, jewelry, and pottery. Another market offers desert-influenced goodies and locally authored children's books. On your way out, don't forget to stop at the café for prickly pear iced tea or by the Greenhouse for unusual native plants, beautiful pottery, and expert advice. Nicest of all: The lush desert landscaping of this acclaimed former residence provides ample shade for a charming shopping experience.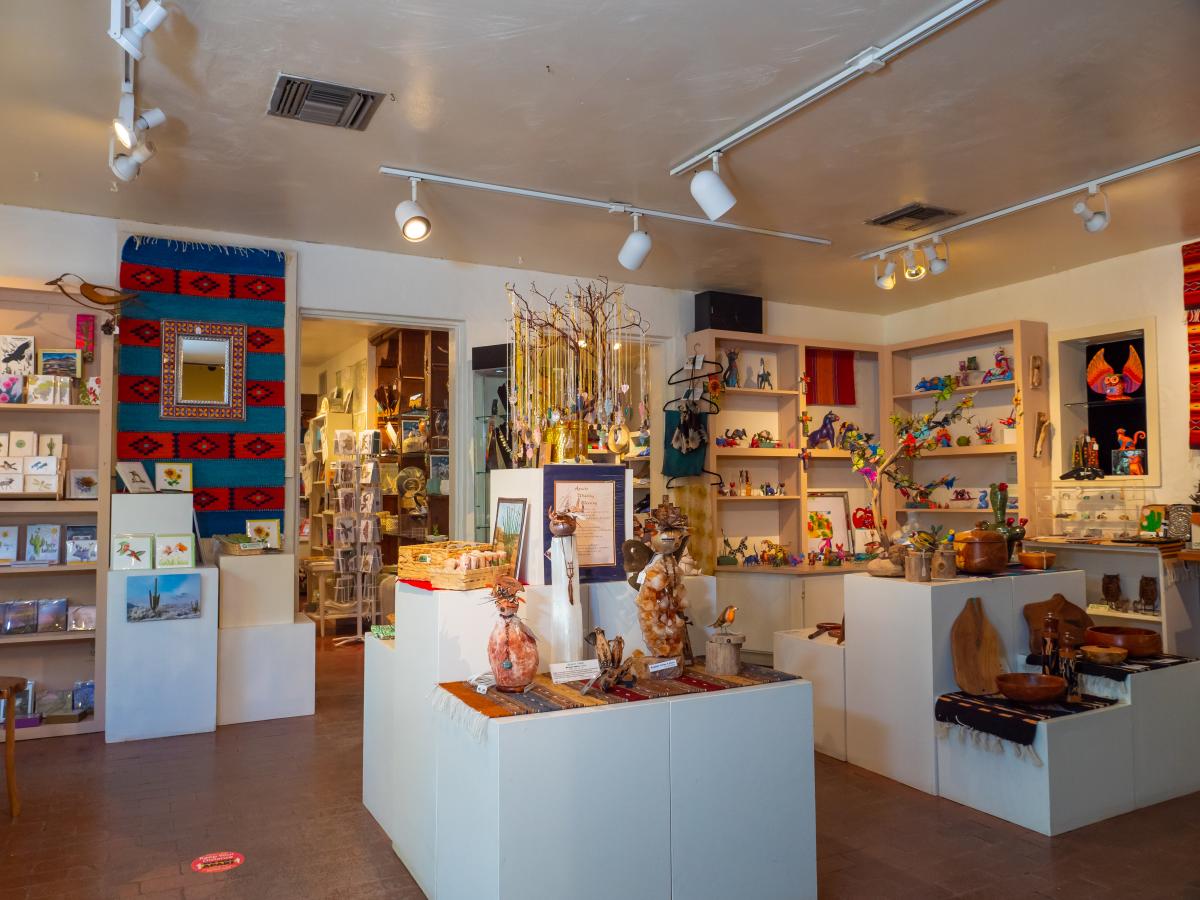 The Gardens Gift Shop at Tucson Botanical Gardens
The Gardens Gift Shops at Tucson Botanical Gardens (2150 North Alvernon Way, 85712) proudly support local artisans and businesses and carry many products made in Tucson and the USA. There is a wide array of garden items, unique clothes and accessories, kitchen goodies, books, fun, and educational toys, and fragrance and body care products. And when you shop here, you're giving a gift twice. Your purchase supports the mission and programs of the Tucson Botanical Gardens while providing something very special for yourself, a friend, or a family member. The Tucson Botanical Gardens is a tranquil oasis in the heart of Tucson that strives to be recognized and respected as the best small public garden in America.