Is 12th Ave America's Best Mexican Food's Main Drag?
In the twenty-plus years since I moved to Tucson from Manhattan, I've seen the dining scene blossom beyond my wildest foodie dreams. It's been a while since I've had any culinary cravings I couldn't satisfy. But I still love the homey, authentic Mexican restaurants I turned to when I first arrived, discovering dishes to suit my every mood. Because the array of possibilities can be daunting, I tend to focus on one main drag that threads through the bustling Mexican-American neighborhoods in South Tucson: 12th Avenue.
Like many Tucsonans, I've found one of the best antidotes to a snack attack to be the Sonoran hot dog, a bacon-wrapped frank smothered in pinto beans, chopped tomatoes, mustard and mayonnaise, and enfolded in a soft bun. This dish has been imitated all over the U.S., even in cities with (shudder) cold weather, but Tucson is just an hour from the state of Sonora, Mexico. We can safely claim to have perfected and popularized the dish north of the border.
Hot Dog Fight
The Travel Channel's Man v. Food producers clearly agreed, choosing two 12th Avenue favorites, El Guero Canelo and BK Carne Asada & Hot Dogs, to duke it out for the country's best Sonoran hot dog. BK won the local judges' blind taste test, but I can never decide which dog I like best, so I often choose on the basis of atmosphere. While BK is low-key, El Guero Canelo is lively, a snapshot of rural Mexico with rowdy-fun ranchero and cumbia music, red, white and green pennants, and a corrugated tin roof.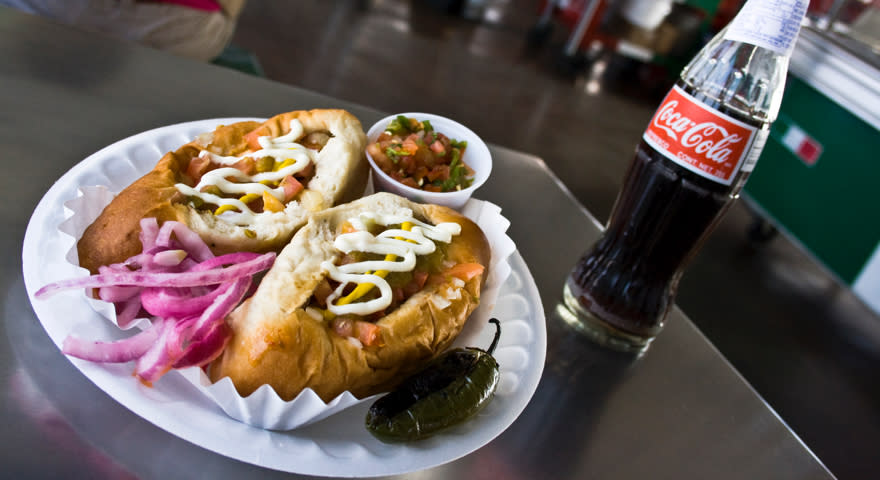 Surf Style
Just down the road, the airy, spacious El Merendero also highlights seafood from the Gulf, featuring some unique preparations. Dishes I haven't encountered anywhere else include the crispy chicharrones de camaron—an unusual, and unusually tasty, shrimp version of a dish that usually features fried pork rinds—and toritos, zesty Caribe chiles stuffed with shrimp and wrapped with bacon. Washed down by a cold Negro Modelo beer or a sweet-tart house margarita and followed by hot-from-the-fryer churros with warm caramel centers—heaven!
Sweet Tooth
Another way I satisfy my sweet tooth is to head for La Estrella Bakery, which turns out 30 to 40 types of baked goods each day. Many of the pastries that line the display cases fall into the pan dulce (literally, sweet bread) category. They are not only tasty but a delight to behold, their creative shapes giving them such colorful names as ombligo, belly-button, for the little knot in the center; elote, corn, with individually etched kernels; and  niño envuelto, wrapped-up baby (more commonly known as a jelly roll). I'm especially fond of the sweet empanadas, filled with pumpkin, pineapple or cherry. La Estrella is also known for its tortillas and rolls, including the buns used for Sonoran hot dogs.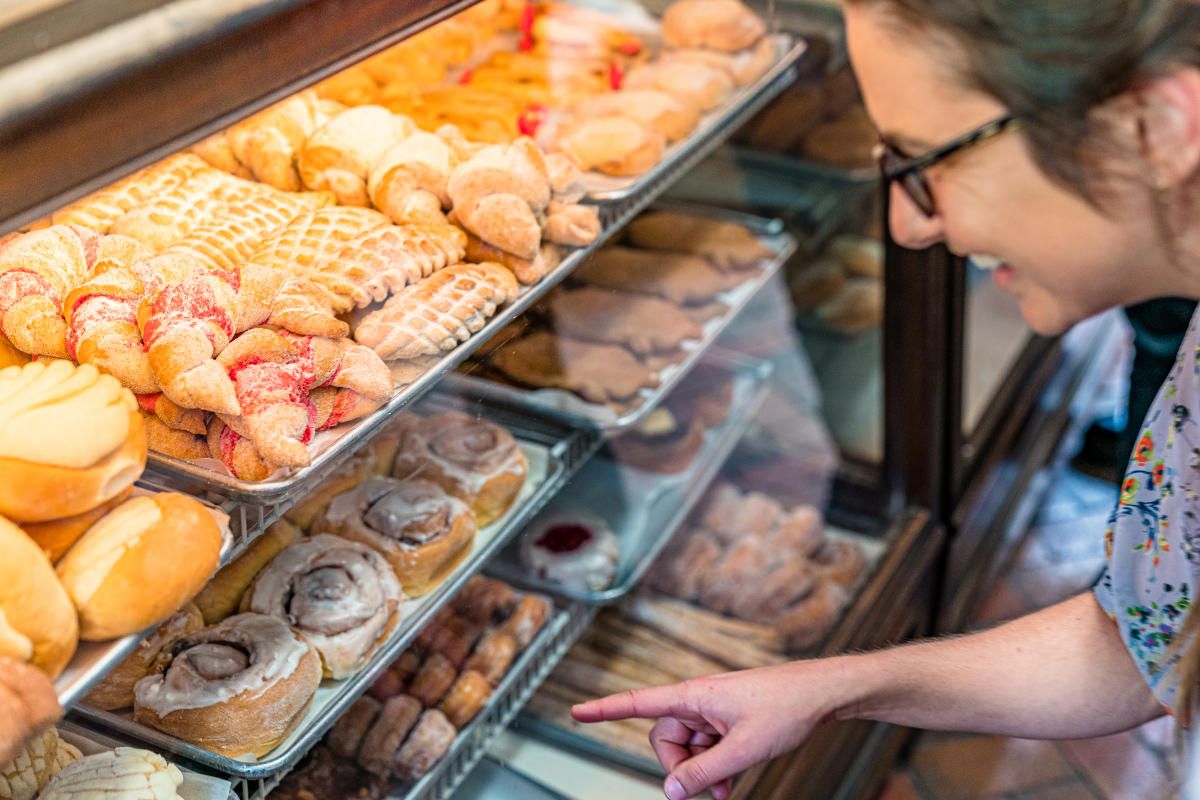 Bring It Home
Sharing space on local supermarket shelves—and vying for the hearts, minds, and breadbaskets of Tucsonans—are the creations of Alejandro's Tortilla Factory. As its name suggests, Mexican wraps of the wheat and corn variety are a specialty, but a busy crew of rollers, kneaders, and bakers create colorful pastries too. Alejandro's doubles as a  carnicería (butcher shop) and Mexican supermarket; you can find everything from bags of hominy to piñatas here. Want some hot food to bring home? Alejandro's also has a takeaway counter. Sometimes the smell of carne asada being grilled in front of the store proves irresistible.
Still, I generally save my carne consumption for lunch or dinner at Perfecto's, a no-frills mom and pop—make that madre y padre—restaurant. The beef tamales, made with pillowy masa that has a touch of sweetness, are my idea of a light meal here. The red chile beef combination plate is a comfort food indulgence, as is the hearty albondigas (meatballs) soup. The dining room is small, with a few family-size booths and Formica-topped tables for four. The size adds to the cozy atmosphere, as does the warmth of the staff. Perfecto's opened in 2009, so it wasn't around when I first came to town, but it's exactly the type of place that made me realize I wouldn't be feeling too homesick for Manhattan.