Exploring the night sky in Southern Arizona
By Suzanne Wright
A night owl and a bit of an insomniac, I'm often outside late at night, looking up to the heavens. Lucky for me, the Grand Canyon State is one place you can see twinkling stars under the absolute best conditions. The clear, dry, dark skies devoid of light pollution above southern Arizona make for ideal stargazing.
I'm not the only fan.
According to a 2007 study, astrotourism contributes more than $250 million annually to Tucson's economy. Dozens of public and private observatories, along with amateur astronomy clubs and even a couple of Tucson's posh resorts, make learning about our cosmos easy.
Connecting to the cosmos
My first experience of going to a "Star Party" was through a Meetup group. Twenty of us traveled from Phoenix to the base of Mt. Lemmon to join half a dozen hobbyists—some local astronomy teachers—who had set up 10 telescopes in a parking lot. It had been a cloudy day, but as twilight deepened into night, the skies cleared and our ranks swelled until about 40 people were gathered.
The telescopes were aimed toward the moon, Jupiter, Venus, Mars and various constellations. One of our hosts spoke of taking a "walk around the sky" as we peered through each. Another host shared folk stories from Native American and Celtic traditions and another answered questions.
With anticipation, I looked into the lens of the telescope aimed at the moon, astonished to see the surface craters so clearly! It looked so luminous, so big and so close.
We took turns, rotating through each telescope. Person after person had the same reaction—gasping and elated, the adults were as excited as the kids. Most of us simply uttered the word: "Wow."
When not looking through the telescope, I peered up at the sky, thrilled to see an occasional shooting star. Time both slowed and sped that night. I was hooked.
A prime destination for stargazing
Southern Arizona has a dizzying array of stargazing programs. I wasn't sure where to start—I wanted to attend every program!
I reached out to Scott Kardel, managing director of the Tucson-based International Dark-Sky Association (IDA), to help me sort out a stargazing strategy. IDA is a non-profit that champions dark skies and certifies parks and communities around the globe that meet specified criteria. Arizona's commitment to dark skies has attracted world-class observatories.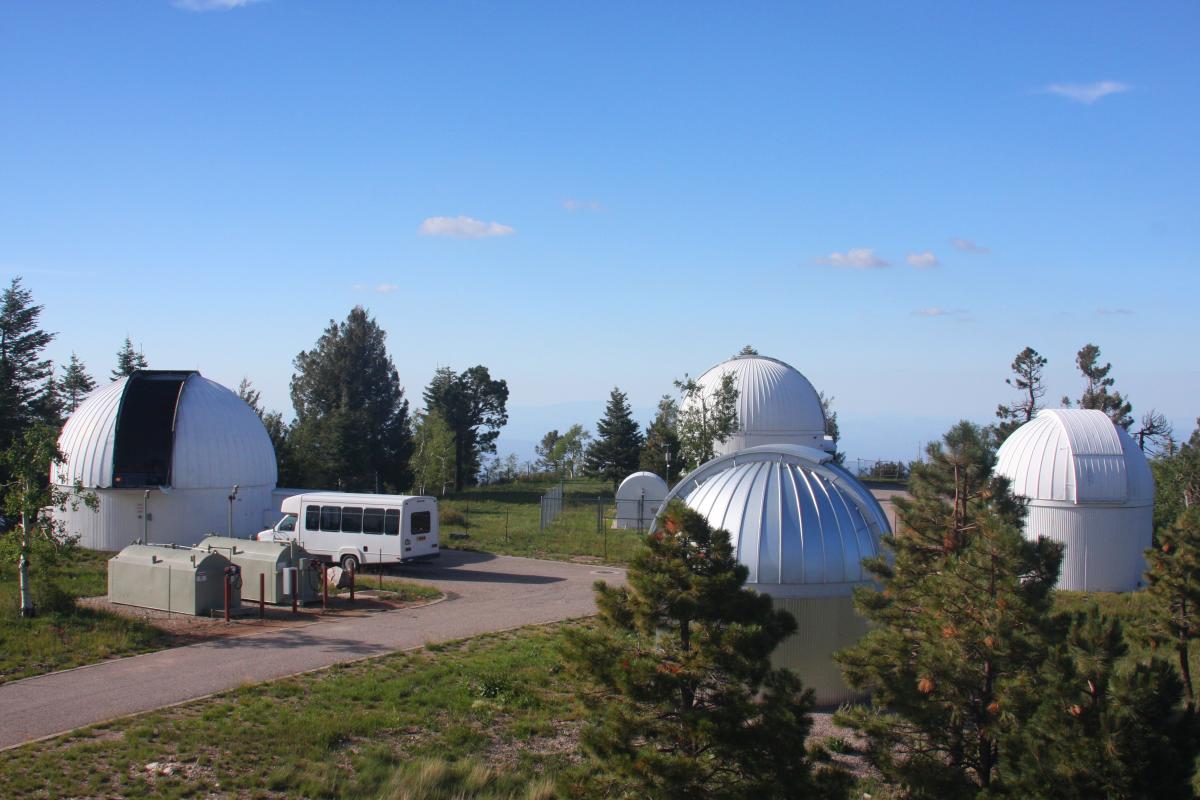 "The SkyCenter at Mt. Lemmon and Kitt Peak are more structured, immersive experiences," he explained. "Mt. Lemmon has one of the biggest telescopes—32 inches—anywhere."
"In diameter?" I asked.
"Yeah, it's impressive," he replied. "You'll be rubbing shoulders with research scientists at both places."
My Aunt Millie lives in Oro Valley; she's been to the SkyCenter at Mt. Lemmon and loved it. She even used the Mt. Lemmon app to take a science tour as she drove there. The app gave an informative audio tour through part of her drive to Mt. Lemmon, making her journey about discovery and learning rather than just getting to point B.
"The app's audio followed right along with me as I drove," she told me shortly after her trip." It even inspired her to take a closer look at how the world works, telling me "I noticed that as I climbed there were fewer and fewer saguaros. Then the app told me it was because saguaros can't survive in cooler climates. I never noticed that there are so many layers of habitat to see here—there's more biodiversity in the sky islands region than anywhere else in the U.S.".
By the time my aunt got to the SkyCenter, she realized she had seen a new facet of Mt. Lemmon and was inspired. She actually became one of the most inquisitive visitors the SkyCenter has ever seen.
"After learning so much about the land around me, I wanted to know even more. I was excited to explore the sky as much as I had on the way up, so I unleashed every question that popped into my head," she told me enthusiastically.
Her experience on Mt. Lemmon exponentially increased my curiosity about the world above. My aunt hadn't been to Kitt Peak yet, so we happily agreed to further my exploration of the sky there.
Mt. Lemmon was named one of the 7 best bike rides in the world by 1843.
Click here to access the Mt. Lemmon Science Tour App, a drive-yourself touring app.