This iconic Mid-Century Modernist landscape, designed by master landscape architect Garrett Eckbo (1910-2000) at the height of his career, is just minutes away from downtown Tucson's commercial district. Completed between 1971 and 1974, two plazas and a small park anchor Tucson's Convention Center Arena, the Music Hall, and the Leo Rich Theater. The goal was to create a gathering place for all Tucsonans.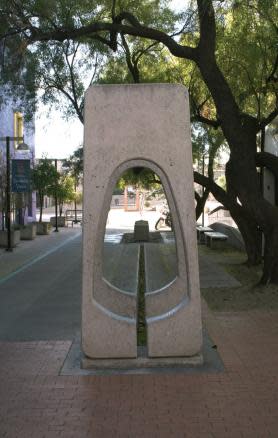 Shortly after it was completed, the landscape received a major award from the American Society of Landscape Architects in recognition of Eckbo's exciting use of materials and on his dynamic settings for different uses, different levels and different vistas (ASLA 1978). In 2015, the National Park Service recognized the historic, cultural, and artistic importance of Eckbo's design by listing it in the National Register of Historic Places as the Tucson Community Center Historic District.  A plaque commemorating this designation is mounted in a seating area adjacent to the Leo Rich Theater.
As you walk through the plazas you will find seating areas, colorful and verdant planting beds, and cool shade. Although the fountains are now empty, an effort is already underway to rehabilitate them with cutting edge water-saving technologies. Things to notice as you stroll through the landscape:
 
Elements of Sabino Canyon were "brought downtown" for all to enjoy, including boulders scattered in the fountains to heighten the sound of rushing water.
Tall Aleppo pines are reminiscent of the sky islands of Mount Lemmon.
Grids of trees serve as small, urban forests.
The view to the east frames the Cathedral of St. Augustine, and next to it the soon-to-be renovated Marist College – most likely the tallest adobe building in Arizona.
The view to the west frames A Mountain, which rises behind the site of Tucson's first settlement on the Santa Cruz River.
The landscape incorporates Modernist design features such as fluid boundaries, balanced rather than axial symmetry, strong geometric forms, and the interplay of contrasting materials. Radiating patterns of brick and concrete reference the graphic work of Kandinsky and Miro.
Pedestal walls, recessed bench footings, and pots unite all three sections of Eckbo's design.