VINEYARDS
Hit the road and taste the fruit of Southern Arizona's vines.
Cork & Vine
Southern Arizona winemakers receive international acclaim. Discover why at tasting rooms and wine shops throughout the Sonoita and Willcox wine regions—all within a short trip from Tucson.
Partner Spotlight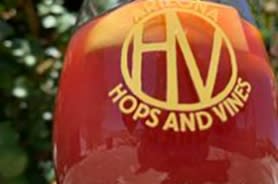 Arizona Hops & Vines
3450 Highway 82 Sonoita, AZ
(301) 237-6556
Arizona Hops & Vines is a cheeky little winery run by two crazy awesome sisters (Megan and Shannon), with a ton of help from their friends and their many children. Hops & Vines is the result of some pretty fearless dreaming in the face of many well-meaning and reasonable assertions that their dream of opening a winery "will never work." Well. If you want to absolutely guarantee that we're going to do something, all you need to do is assert that it's impossible.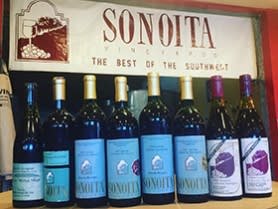 Sonoita Vineyards Winery
290 Elgin-Canelo Rd. Elgin, AZ
(520) 455-5893
Sonoita Vineyards Winery sits on a hilltop in the rolling grasslands of Southern Arizona at an elevation of 5,000 feet. Elgin's first commercial vineyard planted in 1979 and Sonoita Vineyards Winery opened in 1983. Our tasting room and gift shop are open daily from 10 a.m.-4 p.m. We hold three festivals a year: The Blessing of Sonoita Vineyards held in April; Harvest Festival in July/August, and St. Martin's New Release Festival in November. The winery has accommodations for special events in our Vintage room along with the winery grounds.

 
---
Additional Points of Interest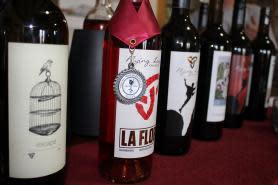 Flying Leap Vineyards
342 Elgin Rd., Elgin, AZ
(520) 455-5499
Flying Leap Vineyards prides itself on staffing its tasting rooms with experienced sommeliers who revel in explaining the art of winemaking and viticulture in Southern Arizona wine country. Its intimate tasting rooms are located in Bisbee, Tucson, and at its picturesque vineyards in Elgin. FLV also operates a tasting room on Willcox's popular "winery row." It is located in the former Headquarters Saloon, where Wyatt Earp's brother Warren famously met his end during a barroom gunfight in 1900. Call ahead to book a group tour of Flying Leap's vineyard, or join in one of the regular rural, nighttime astronomy events, when you can see an array of stars invisible to those in the area's more brightly lit urban centers. Even better, Flying Leap in the process of expanding its operations to brandy, grappa, moonshine, bourbon, and whiskey distilling.

 
Keeling Schaefer Vineyards
10277 Rock Creek Ln, Pearce, AZ
(520) 824-2500
Good things come in small packages, and Keeling-Schaefer Vineyards is proof of that. The small winery produces estate-grown and bottled Rhône-style wines on 21 vineyard acres along Rock Creek, in the sunny Chiricahua foothills near Willcox. Its award-winning wines have been featured and reviewed in the Wall Street Journal and Arizona Highways—and Wine Spectator awarded two of its wines, the Three Sisters Syrah and the Best Friends Viognier, some of the highest ratings any Arizona wines have ever received. Pay a visit to the Keeling-Schaefer Tasting Room, located in downtown Willcox in the restored 1917 Willcox Bank and Trust Building, which features pressed-tin ceilings, and the original wood flooring.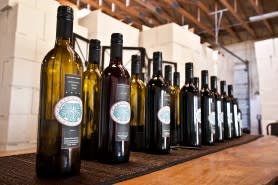 Callaghan Vineyards
336 Elgin Rd., Elgin, AZ
(520) 455-5322
A pioneer in Southern Arizona winemaking, Callaghan Vineyards makes New World wine in the traditional Old World style. It's lovingly tended, the rich red-earth-soil vineyard produces robust Mediterranean classics like Cabernet Sauvignon, Cabernet Franc, Mourvèdre, Petit Verdot, and Spanish Graciano, all naturally aged in wooden barrels. Founded in 1990, Callaghan and its award-winning libations helped "legitimize" the emerging Arizona winemaking industry. The wines have been served at the White House and have been highly praised by the Wall Street Journal, Wine Spectator, and Wine Advocate. Taste for yourself: Callaghan hosts tastings Thursday through Sunday on the front porch of the 5,000-square-foot winery in Elgin. On a busy weekend, expect to swirl and sip with as many as 300 other happy tasters.
Dos Cabezas WineWorks
3248 AZ-82, Sonoita, AZ
(520) 455-5141
Family-owned Dos Cabezas has produced libations since 1995, using grapes from the Pronghorn Vineyard in Sonoita and Cimarron Vineyard near Willcox. Its wine has been served at the White House and has caught the attention of the Washington Post, Wall Street Journal, and Wine Spectator. The Dos Cabezas tasting room is conveniently located in downtown Sonoita. Hang on to the souvenir glass you receive post-tasting—it also gets you discounts at nearby tasting rooms operated by Arizona Hops and Vines, Lightning Ridge Cellars, Wilhelm Family Vineyards, Rancho Rossa Vineyards, Kief-Joshua Vineyards, and Hannah's Hill Vineyard and Winery.

 
FEATURED
Tour and Taste The Fruit of Southern Arizona's Vines